Propane heated hot tubs need a tankless water system to heat the water up, along with some basic plumbing fixtures and fittings in order to get set up which is explained in this article.
More and more people are starting to convert propane-fired hot tubs since the electricity rises which made people stop using their hot tubs, they also became less popular due to the rising costs of electricity!
The solution to run your hot tub on the cheap is to combine a tankless water heater with a propane gas canister known as LPG so you then have a propane hot tub water heater without the need for any electricity to heat your hot tub water up.
How To Set Up Propane Heated Hot Tubs With Tankless Water Heaters:
There are a few things you will need to buy to get set up but doing this will end up saving you a small fortune on electricity over time and is totally worth it in the long run.
Converting to a propane-powered hot tub is a good investment that does require some manual work! but it also offers great long-term savings overall. all it takes is a bit of cash for the materials you need, and some basic DIY skills!
It's basically common sense to set it up, so! You have three main connections on tankless water heaters, these are as follows along with how they work with all the other operating control functions you would need to know about.
Water Intake – (This hose would be attached from your main water supply to a pump that is attached to your tankless heater to fill it with cold water)
Water Outlet – (This hose would run from your tankless water heater into your hot tub to release the hot water)
Gas Inlet – (This hose would be your main gas supply from your LPG Gas bottle to your tankless water heater to heat the water up)
Operating Controls For Propane Heated Hot Tubs:
Heating control Dials – This allows you to adjust temperatures, fire adjustments, and winter and summer mode adjustments.
Safety features – Automatic flame shut off should it overheat, Flame failure device stops gas flow from running when not ignited.
Freeze shield – Included drain valve to easily drain the water out should temperatures reach freezing.
LED temperature displays – These show water temperatures and include energy-saving winter and summer modes.
Main FLU Outlet – The flu allows smoke gasses to escape through the top flue outlet (Flu pipe not included with the tankless water heater so a 9mm flue pipe is required)
Battery Operated – The unit requires two 15v batteries, the battery case is located on the underside of the unit.
There are a few different ways to set tankless water heaters up, you can do a simple setup with basic garden hoses or you can go the whole hog with plumbing piping such as speedfit poly pipe with lagging insulation around it to keep the water warm in the pipes.
How To Set Up A Tankless Water Heater For Propane Heated Hot Tubs Video:
Required Materials To Set Up Propane Heated Hot Tubs:
The list of materials provided below is intended for setting up a tankless water system with speedfit poly pipe.
You can use standard garden hoses as shown in the above video if your looking to save some time and money on getting yourself set up in this way pretty easily and in quick time!
But you will still require some of the materials we have provided on the list of materials needed below such as the Tankless water heater, Water pump. LPG gas, Garden hoses, and Plumbing fixtures and fittings.
The only difference between using garden hoses or poly pipe is that it will cost you more time and money to get set up with Polypipe and the only main advantage is that, it's a much tidier way in appearance if you don't want hose pipes lying around everywhere looking untidy.
Check out this Facebook group where you will find a community of people setting up tankless water heaters for their hot tubs which may further help you out getting set up with your propane-fired hot tub.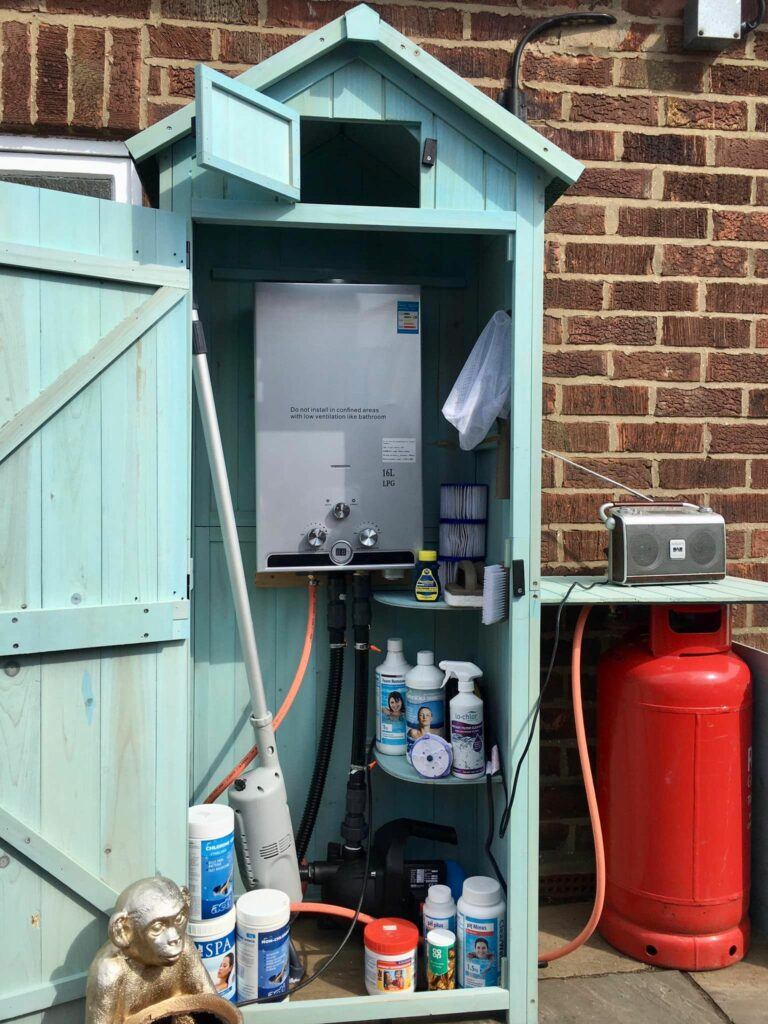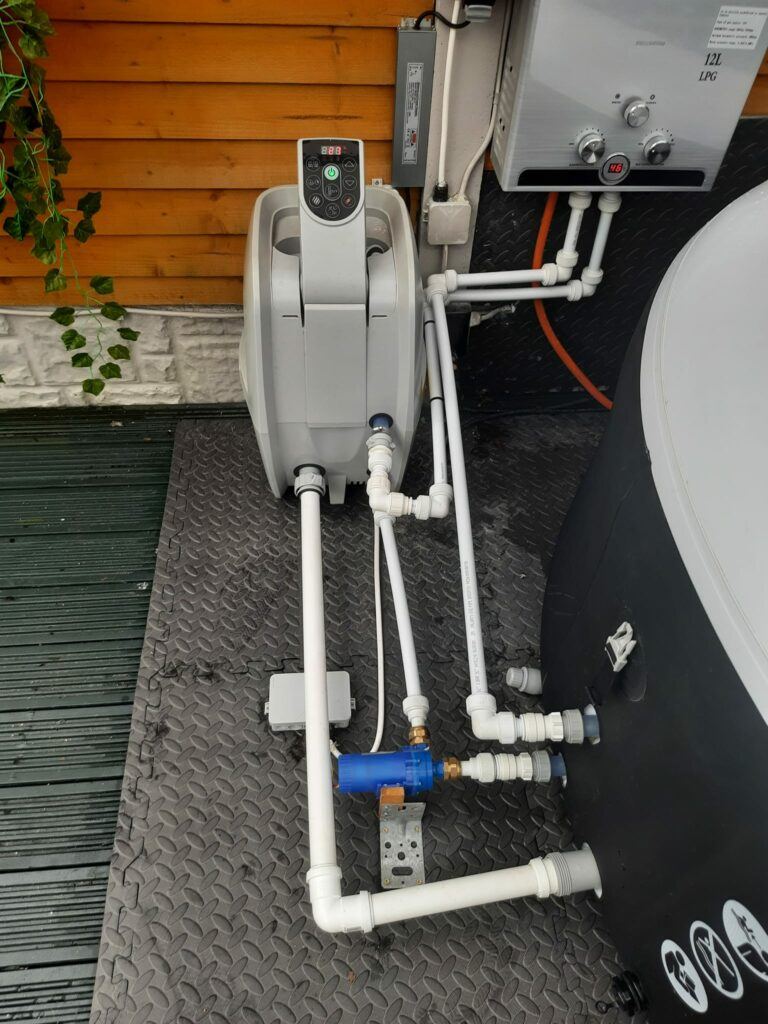 Faq's
What are the pros and cons of using propane heated hot tubs?
The Pros are that you will certainly save some money after your initial investment in setting yourself up.
Your hot tub water will heat much faster and your tub can be ready to bathe in less than one hour.
The Cons are that it costs for the materials needed and takes a bit of tedious work to get set up initially.
The set-up can look unsightly if not done without care, (always pay some thought to the outcome of your set-up before starting out)
What is the cheapest way to heat a hot tub?
A gas-fired propane heated hot tub is always going to be the cheapest way if you a willing to set it up in the first place. The way electricity costs are rising propane heated hot tubs is the cheapest way to heat a hot tub in this day and age.
There's no doubt with electricity costs rising it's costing people much more money to heat their hot tubs which is why we created this page to help people heat their hot tubs much cheaper than using electricity.

https://www.chroniclelive.co.uk/news/cost-of-living/hot-tubs-expensive-money-energy-23505435
You can expect to heat your hot tub much faster using LPG whilst you can also expect to save a considerable amount of money compared to using electricity to heat up your hot tub water.
How long does it take to heat Propane Heated Hot Tubs?
You can expect to fill your tub and the water to heat up in less than an hour for a large six-person hot tub which is quite impressive compared to using electricity that would take up to 24-hrs, for smaller hot tubs then you can expect it to heat even faster just because you have less water to heat.
It all depends on the size of your hot tub, the current climate, and the output of your LPG tankless water heater where we recommend using the most powerful 18L, 36KW model for best results.
There are other models – 8L 10L, 12L, 16L but we recommend the 18L in this guide, if you choose another model then be sure to check the fitting sizes for your pipes! as they vary depending on Litre size. The 8L has different-sized fittings.
Can you use a tankless water heater to heat a hot tub?
Yes, You can use a tankless water heater to heat a hot tub if you hook it up to a propane gas bottle as explained in this article, you only need a few materials to get started on your project so you can start saving money by using a tankless water heater and propane to heat your hot tub water up fast.
Can a tankless water heater fill a Jacuzzi tub?
Yes, you can use a tankless water heater on any type of hot tub including a jacuzzi, To save any confusion after years of experience in hot tubs, Jacuzzi is just another name for a hot tub.
Jacuzzi is a hot tub company that makes and sells hot tubs just like any other hot tub brand.
Can you hook a tankless water heater to a pool?
This may take much longer to heat your water but it is possible, you should purchase the best equipment possible as you will be working it quite hard depending on the size of your pool.
for smaller pools then not worry, for larger pools then be prepared to wait longer for the water to heat up initially and expect it to cost more in Gas/LPG to maintain your desired temperature.
Tankless water heaters a great for above-ground pools of all sizes but not so good for mega large built pools.
What are the best tankless water heaters to heat a hot tub or a pool?
We recommend always going for the 18L, 36-KW as this has the biggest output which offers you better performance than a 12L, 14L, or 16L and should outlast all other models.
Be aware that when buying other models than the ones shown in this specific guide here is for the 18L model only! as pipe sizes and connections vary on their main tankless water systems meaning you would need different sized piping to accommodate the fitting sizes on other models than the 18L one recommended here.
Last update on 2022-06-25 / Affiliate links / Images from Amazon Product Advertising API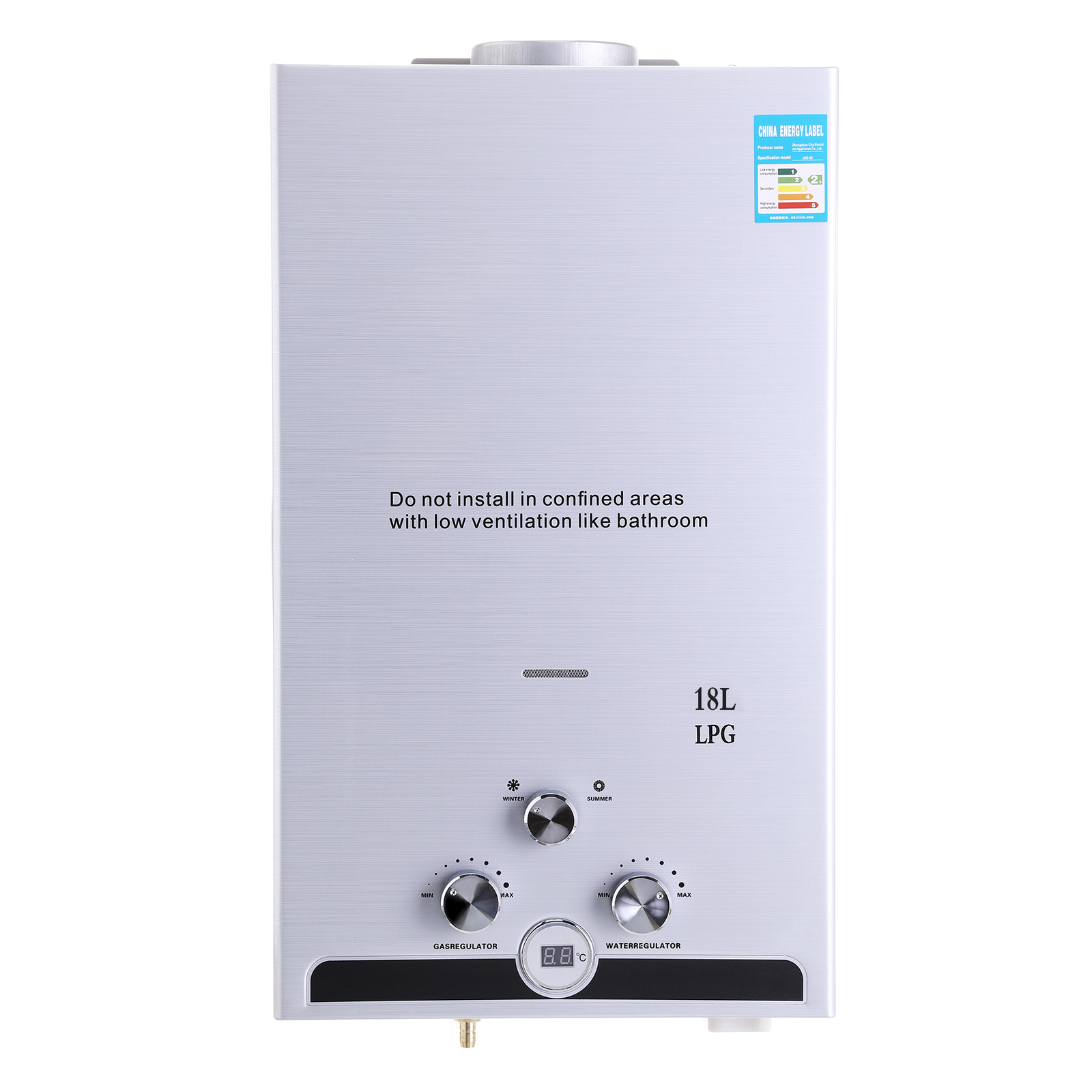 ---
You Might Also Like:
Wrapping Up:
We hope you found this propane-heated hot tub guide useful, If you have any questions or would just like to comment with your opinion then please use the comment box provided for you below.
We Do Not Tolerate Spam!