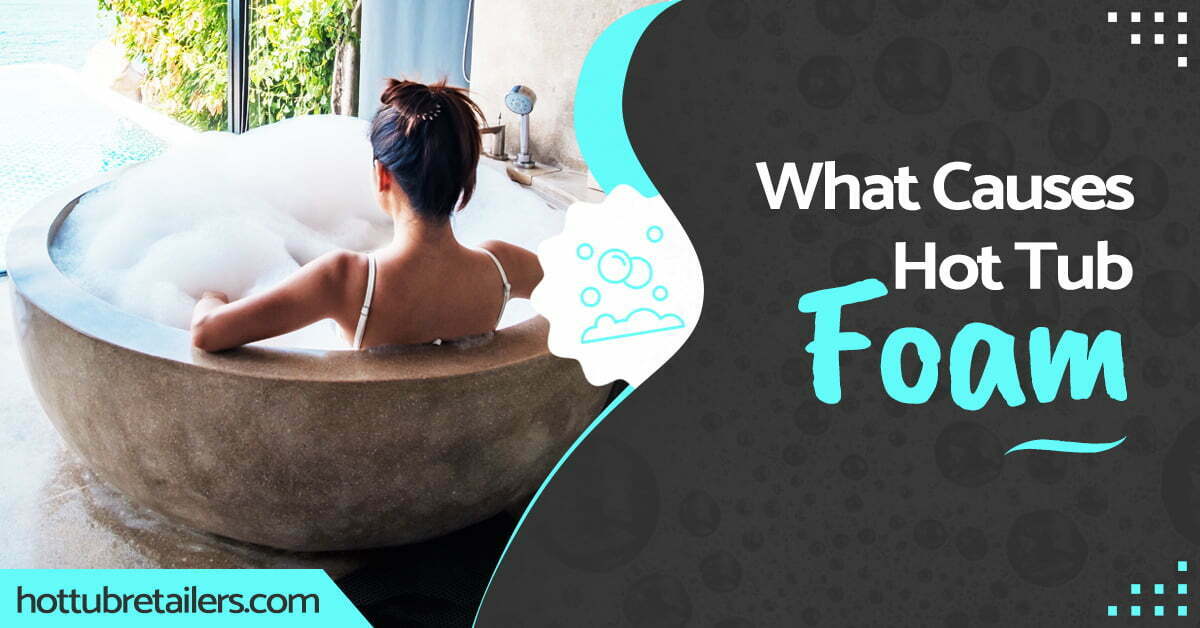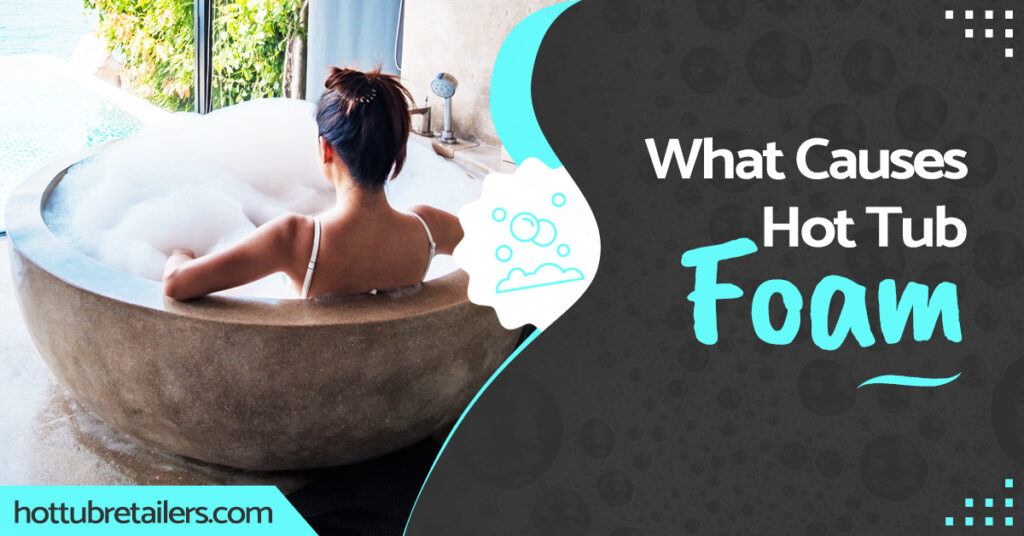 So, what causes hot tub foam? hot tub foam is caused by two main things, Our own body oils! and lack of water maintenance! are the two main culprits that cause of hot tub foam.
This article explains how hot tub foam is caused and how to get rid of foam in a hot tub.
Hot tubs are hard to keep clean and many times people don't know what's causing the foam in the first place when it's a known fact in the hot tub industry that it's actually us that's causing the hot tub foam by not showering before we get in the tub and not keeping up regular the water maintenance to keep your water clean.
Foamy water can be annoying when it comes out of nowhere and spoils the party.
Hot tub foam can also hinder the performance of the hot tub's filter, cause the heating system to work harder, clooging within the plumbing pipes and even damage the pump impeller if it gets into it.
It's important you take action quickly as soon as you spot foamy water in your hot tub so let's get into the meat of it.
Disclaimer:
Our site is reader supported, this means we may earn small commissions from Amazon and other affiliates at no extra cost to you if you buy through links on our website.
What Causes Hot Tub Foam And How To Treat It:
There are several reasons why foam builds up in your spa, The main culprits being,
Surfactants such as natural body oils and dead skin cells.
Poor water balance such as low calcium, PH, and Alkaline levels.
Overuse without keeping up regular maintenance.
But there are also several things you can do to get rid of it depending on how aggressive it is you should try,
Firstly – Balance the chemical levels in your water regularly by checking the calcium levels, PH, and Alkaline levels with test strips or an electronic tester. When they are balanced, the foam should gradually dissipate over time
Last update on 2022-06-24 / Affiliate links / Images from Amazon Product Advertising API
Secondly – Add a defoaming hot tub foam remover chemical to your water, These chemicals are designed to get rid of foam in hot tubs and balance out the water chemistry at the same time depending on how aggressive the foaming is you might need to drain your hot tub completely if it does not go away on its own after two hours.
Last update on 2022-06-25 / Affiliate links / Images from Amazon Product Advertising API
Last Option – If all of the above methods fail to work then you should drain the water from your spa, clean all surfaces thoroughly using a dash of white vinegar mixed with water (1-4 Ratio) or you can use a hot tub cleaner specifically designed for cleaning hot tubs.
Whilst your tub is empty, This is a good time to consider re-filling and flushing the insides of your hot tub with a hot tub line flush to remove any buildup biofilm inside your plumbing pipes. (Turn all jets on when flushing for best results)
Then refill your hot tub and balance the water ready for bathing, Then add either a couple of tennis balls or sponges to help absorb the surfactants being released into the water.
Last update on 2022-06-24 / Affiliate links / Images from Amazon Product Advertising API
Main Causes Of Hot Tub Foam Are Surfactants:
Foam in a hot tub can be caused by several factors, but the most common are air and water Surfactants as well as the chemicals used in a hot tub being out of balance.
Foam forms when tiny air bubbles are produced by jets and combine with surfactants such as dirt and oils from your body. The resulting suds tend to gather at the surface of the water
Surfactants are basically just chemicals that reduce surface tension between two different liquids or between a liquid and a solid.
They are also a leading cause of foam in spas. Surfactants are naturally occurring substances that lower surface tension between two liquids or between a liquid and solids.
Body Oils:
Surfactants in your hot tub are usually introduced in detergents or by a build-up of contaminants such as,
Natural Body oils (Sweat)
Dead skin cells
Daily cosmetics such as make-up oils
Body creams and lotions
Laundry soaps and detergents
Antiperspirants
Alcoholic Beverages & Sweet Drinks
We all use these products on a daily basis but when they end up in your hot tub water they will eventually cause the foam to develop on the surface of your water.
It's recommended to have everyone shower before entering the hot tub to help eliminate foaming problems.
Soaps, oils, and body lotions on your skin can form a layer on top of the hot tub water and cause foam.
Low Calcium Hardness Or Poorly Balanced Water Both Cause Hot Tub Foam:
Poor water balance or low calcium hardness or high levels of total dissolved solids (TDS). when total dissolved solids exceed 1500 parts per million, the water becomes more susceptible to suction, which creates foam.
If your water is unbalanced or if the pH level is too low or too high, it can create foam. The first step to correct the problem is to test your water and identify the root cause of the foam.
How To Reduce Foam In A Hot Tub:
There are many causes of foam in hot tubs as mentioned above, but there are also ways to reduce or treat it.
Here are a few ways to keep hot tub foam at bay!
Balance your water regularly by testing PH, Alkalinity, and Calcium levels. Hot tub water is a breeding ground for bacteria and algae, which can make the water cloudy and cause it to produce foam quickly.
To avoid this, fill up your tub with fresh water every so often depending on usage. Cleaning your hot tub filter will also help prevent foaming caused by Surfactants bacteria growth.
Add Shock to the water after every use to break down any sweat or bodily fluids that may have gotten into the water. It also ensures that there aren't any bacteria left from the last time you used it.
You can buy a shock treatment that combines two different types of shock, oxidation, and chlorine. Oxidation kills impurities but doesn't kill bacteria, so it needs to be combined with a chlorine-based shock for best results.
Last update on 2022-06-24 / Affiliate links / Images from Amazon Product Advertising API
Add a water clarifier to the water. Clarifiers work to bind together the small particles in your hot tub water that create foam.
Add a Spa water clarifier about once a month (or according to the directions on the bottle) to keep your hot tub free of foam-causing particles.
Remember to add a sponge or tennis ball or two to the water to absorb the body oils and other surfactants that enter the water, After each use, it's recommended to change or clean the absorbing sponge/s ready for your next use.
Last update on 2022-06-24 / Affiliate links / Images from Amazon Product Advertising API
Fastest Way To Get Rid Of Foam In A Hot Tub:
The fastest way to get rid of foam in the hot tub is using a de-foamer know as hot tub anti-foam or foam down,
Do Know! this is only going to be a temporary fix until you take the extra measures to completely eliminate the problem.
Last update on 2022-06-25 / Affiliate links / Images from Amazon Product Advertising API
Cleaning your filters regularly! You should clean your filter once a week and scrub the sides of your spa every 2 weeks. This helps prevent foam buildup whilst your filters are at their best doing the job they are supposed to.
Dirty filters full of gunk can't do their job properly if they're not cleaned regularly.
Last update on 2022-06-24 / Affiliate links / Images from Amazon Product Advertising API
Wrapping Up:
Now we have covered all there is to know about what causes hot tub foam and what you can do to get rid of it, it's time to wrap up this article.
Thanks For Reading…
If you wish to comment on this subject then please use the comment box provided for you below.
We Do Not Tolerate spam!
Related Articles: