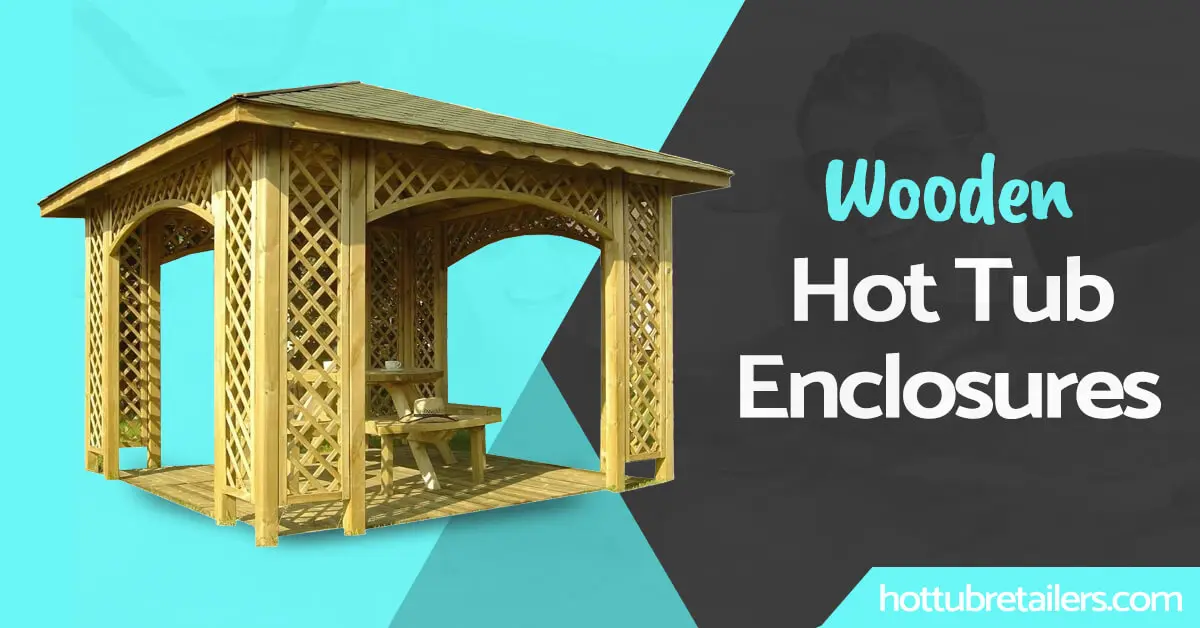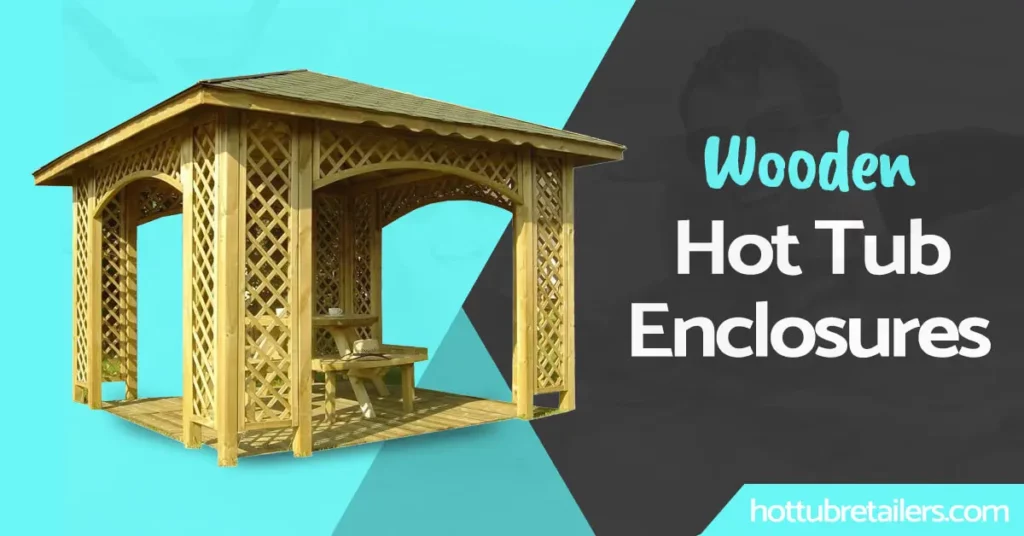 Disclaimer:
Our site is reader supported, this means we may earn small commissions from Amazon and other affiliates at no extra cost to you if you buy through links on our website.
Custom Bespoke Designed Wooden Hot Tub Enclosures – Delivered and Built On-Site:
This Stunning looking 4-meter wooden hot tub enclosure would suit the much bigger garden due to its huge size, That being said these can also be made to a custom size of your liking to make it fit into your garden space.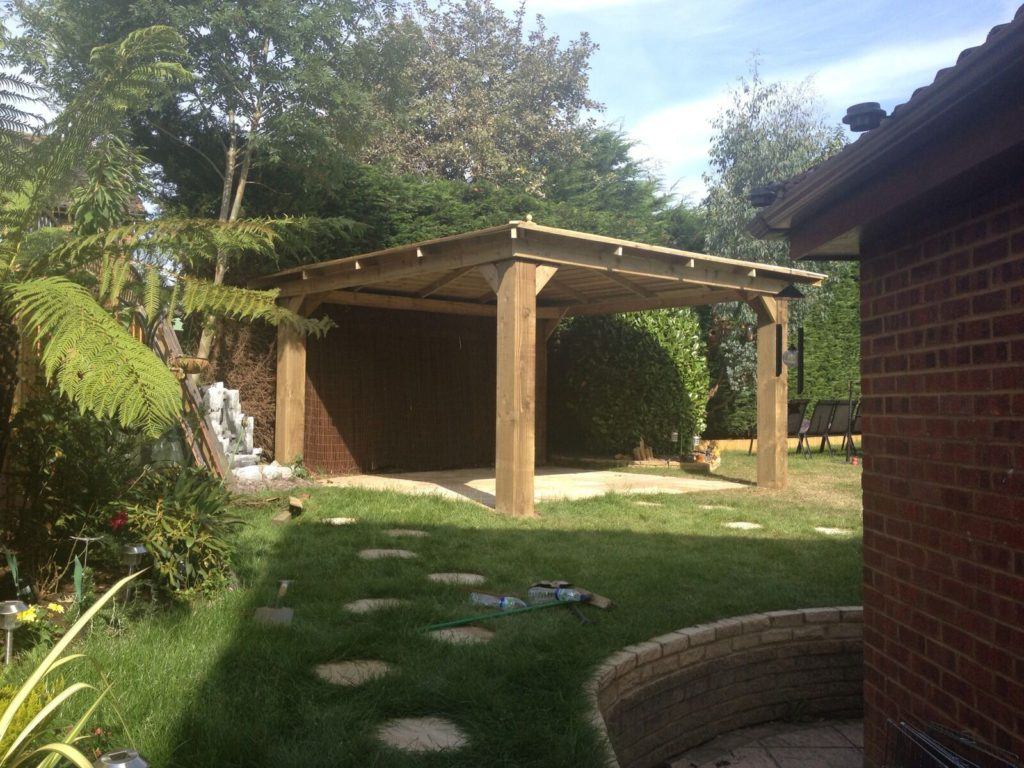 These enclosures are great for all kinds of activities even if you're not using them for your hot tub, They can be used for barbecues and garden parties with family and friends, and they can be left out for years with zero maintenance compared to your standard outdoor gazebo which would need taking up and down frequently to protect them from all weathers.
The enclosure has pressure-treated softwood that will resist the weather for years which makes for a more permanent style enclosure, It's good advice to re-stain the wood every 7 years or so to keep the wood in its best condition and to prevent any rot.
The enclosure needs a base to stand on, This can be either a solid concrete base such as flagstones, Decking is also a suitable base to be able to screw the enclosure down tightly.
NOTE – Where grass is concerned then there would be the need to dig holes in the correct places for the wooden post's to sit in which would then be concreted in for a solid standing structure.
Build Quality
Quality timber roofing, 20-mm thick with overhang to help keep the rain out.
Quality square posts, 200-mm thick
Quality Lintel sections, 150-mm thick
Timbers are all pressure treated which helps slow decay and slow rot.
Hand Built On-Site
Yes, you heard it right, These enclosures can be made to your bespoke design, in the exact size you want it to fit in your garden,
Choose from different wood such as Cedar, Oak, and Larch.
Choose to have handrails fitted.
Choose to have flooring fitted.
Choose to have a removable privacy wall built
The possibilities are endless, Just ask for your requirements as just about anything is possible to design bespoke for you.

Conclusion
A great service with a great concept behind it all, it's not often where you can find such a bespoke service as this one, all in all, a good hassle-free option for those wanting a solidly structured enclosure delivered and built for them.
Self Assembly Wooden Enclosure – DIY
This hexagonal-shaped – "3.5-meter" diameter enclosure comes as a self-assembly do-it-yourself kit It is available as a bare roof or shingle roof option, it is easy to assemble with all instructions, parts, and tools included.
Optional Roof Shingles Available in two colours, Red, Yellow.
An attractive-looking enclosure that is fairly sizeable at three and a half meters, can be used for various uses.
The ideal place for a hot tub
Throw a minibar and a dart board in, your favorite board games, and a place to chill out!
Table and Chairs for evening dining
A good place for the kids to build dens
It's always a good idea to set some lighting up for your enclosure, This helps set the mood for every occasion, especially at night time when the lights are more effective.
Self Building Tips
Be prepared, if you have ever bought a shed before then you should know it comes in pieces, so does this wooden enclosure.
You're going to need to have some very basic knowledge of DIY and some simple tools such as a
Hand-Saw
Hammer and Tapping Block
Extra Nails & Screws
Tape Measure
Cordless Drill
The kit does come with all fixings but best to have essentials to hand like extra nails and screws in different sizes which will help you get set up and make things more secure.
Make Sure You Have a cordless drill to hand and a cup of tea in the other if possible as this will help you relieve stress a lot in getting set up…
Be prepared for where you plan to place this unit on the ground, a good solid level ground is best suited where the unit can be clamped down, where the grass is concerned then you would need to add extra support by the use of concrete base anchors.
Sounds like too much hard work, a tradesman would soon have it up and wouldn't cost too much I expect.
Conclusion
If you were to go out, buy all the wood, spend all the time to make the ready-made panels, and ship it out to customers, I think it's fair to say it's a fair deal considering what all that would cost in itself while the company has to make a profit for their supply and build efforts for the product, and overall Good deal.
£1,249.00
in stock
as of September 23, 2023 1:26 am
Last updated on September 23, 2023 1:26 am
---
Wooden Garden Enclosure 3 x 3 Metre – Full Roof With trellis
A stunning self-build timber enclosure, pressure-treated timbers all-around that makes for longer-lasting timber.
This comes with or without roof shingles, the choice is optional on checkout!
Suited to the more spacious garden, can be used to house a hot tub or can be used for many other various purposes, a nice place to sit and relax outside with family and friends.
Self Assembly – DIY Construction
By no means is it going to be easy to erect unless you are good at joinery, it comes in loads of separate pieces including the posts, trellis, and roof panels, and all the fixings needed to build it are included, the enclosure is a self-assembly unit that may need a tradesman to put together which is something to bear in mind if you're thinking of purchasing one of these for yourself.
Installing the optional roof shingles is something to decide on, Having them installed makes for a more waterproof roof and the life expectancy of the wooden roof is set to last longer if they are installed.
If not installing the roof shingles, Then it is recommended to either use a basic roof felt which you can tack onto the roof or you can paint the bare timber roof with a good exterior varnish such as yacht varnish which will help protect the roof from rainwater for a much longer period of time than if it was just left as bare untreated wood.
Conclusion
If your looking for a long-lasting solution to house your hot tub then a wooden hot tub enclosure may well be your answer, just make sure you have the means to be able to build this one as it comes as a self-build unit compared to others on this page that include delivery and installation.
£1,149.99
in stock
2 new from £1,149.99
as of September 23, 2023 1:26 am
Last updated on September 23, 2023 1:26 am
---
You Might Also Like:
Want to Ask a question or leave a review about any of the wooden hot tub enclosures mentioned on this page, then please use the comment box provided for you below, we will always come back to you within 24-hrs.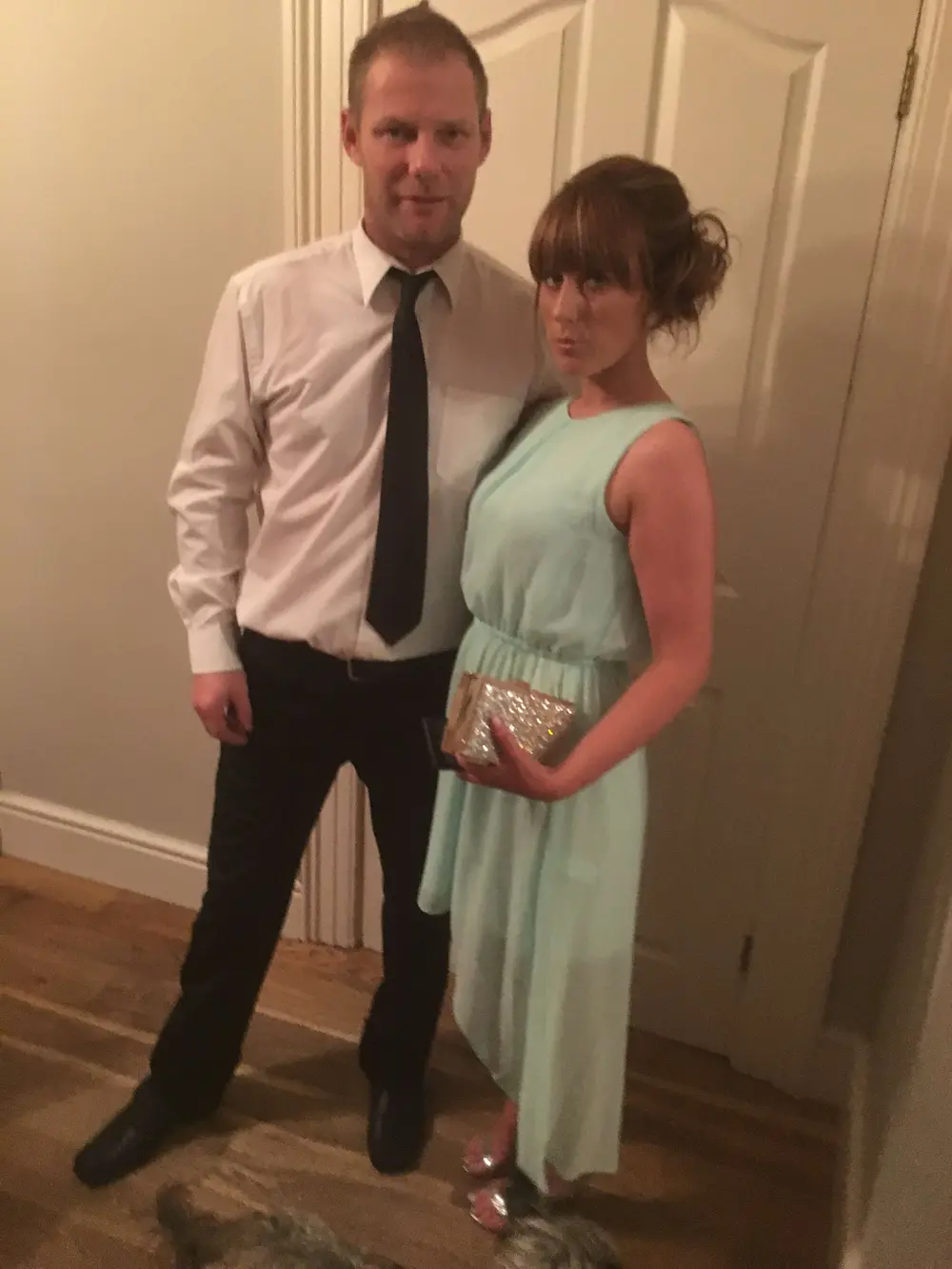 I'm Simon the owner of this website, I've had years of experience in the hot tub hire business and pool water maintenance where I learned a thing or two about hot tubs and water chemistry which I share here on my website. Learn more