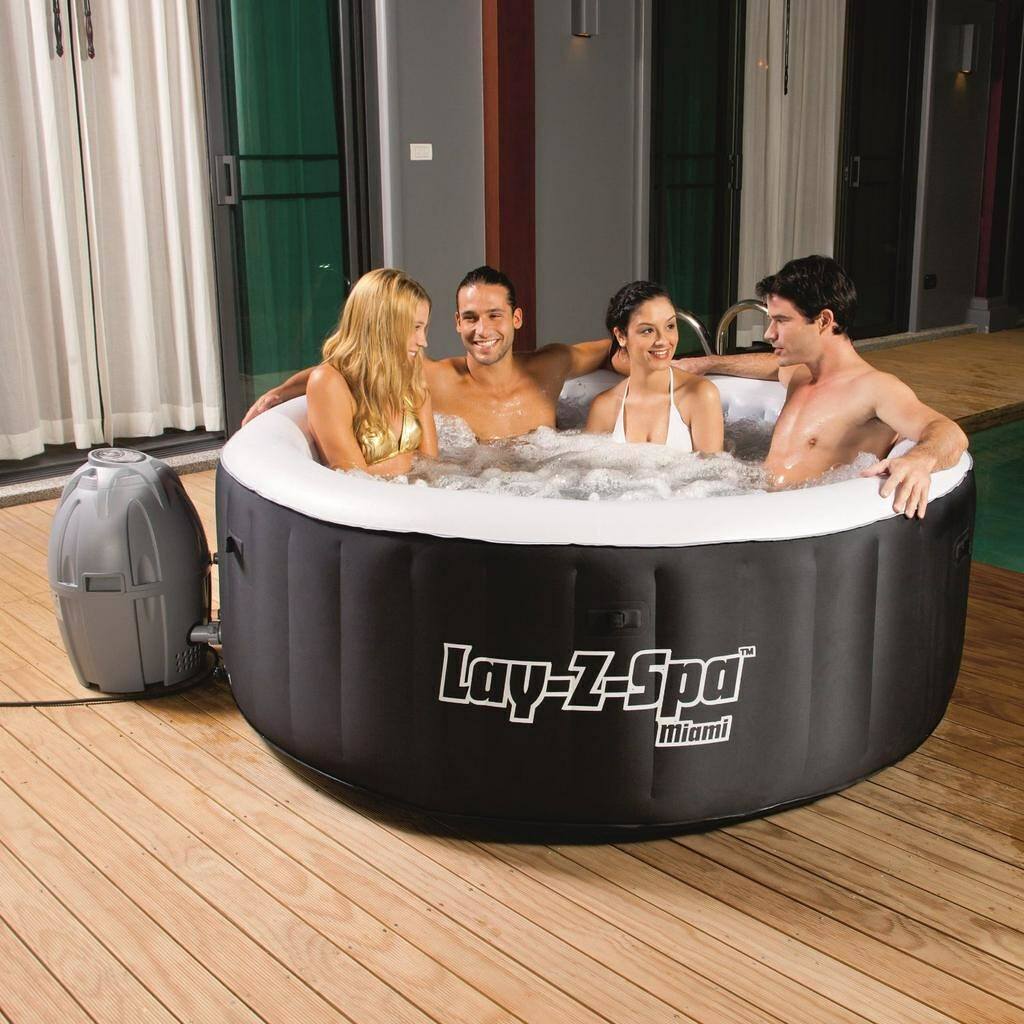 Lay Z Spa is one of the best-selling and most popular inflatable hot tub brands that come in all shapes and sizes to choose from, including square and round hot tubs with a holding capacity from 2-person up to 7-person hot tubs.
In our Lay Z Spa hot tub reviews, we cover which hot tub would be best suited to each individual's needs which usually depends on mainly, size, durability, price, and recent customer feedback.
Size is super important depending on how many people you plan to share the tub at any one time, the bigger the family the bigger hot tub you would need to accommodate those people, Lazy spa happens to have some of the biggest inflatable hot tubs available on today's market which are listed below along with the smallest ones.
Disclaimer
Our site is reader supported, this means we may earn small commissions from Amazon and other affiliates at no extra cost to you if you buy through links on our website.
In A Rush? See Our Top Three Picks Compared!
Product Title
Lay-Z-Spa 54123-BNNX16AB02 Miami Hot Tub, Airjet Inflatable Spa, 2-4...
Lay-Z-Spa Paris Hot Tub with Built In LED Light System, 140 AirJet...
Lay-Z-Spa St Moritz Hot Tub, Airjet Inflatable Spa, 5-7 Person
Size Dimensions
2.16 -Meter x 2.16 Meter x 71-cm height
Tri-Tech Beam Construction
Best Budget
Product Title
Lay-Z-Spa 54123-BNNX16AB02 Miami Hot Tub, Airjet Inflatable Spa, 2-4...
Tri-Tech Beam Construction
Best Deal
Product Title
Lay-Z-Spa Paris Hot Tub with Built In LED Light System, 140 AirJet...
Tri-Tech Beam Construction
Last update on 2023-09-23 / Affiliate links / Images from Amazon Product Advertising API
See Our In-Depth Lay Z Spa Hot Tub Reviews Listed Below:
You can relax and unwind In a Lay Z Spa inflatable hot tub in the comfort of your own home or in your garden at a pretty affordable price for the given luxury, a portable inflatable hot tub that can be easily set up and taken down within 30-minutes, we have provided video set-up instructions for each hot tub we review below.
We have reviewed some of the most popular choices among customers, We base our reviews on previous customer feedback, in some cases actual product usage and manufacturer's feedback.
Lay-Z-Spa Miami 2019 Model – Smallest Inflatable Hot Tub, Holds 2-4 people: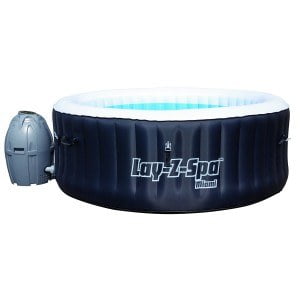 Product Description:
Miami is a great choice in portable inflatable hot tub relaxation, this unit fits up to 2 to 4 people with temperatures rising up to 40 C having a built-in jet system that massages you whilst you bathe, the Miami is an affordable option with all the features of a traditional hot tub,
Perfect for small gardens with limited space, very easy to set up, and also can be used indoors or outdoors, the unit comes with a DVD which details the setup and maintenance to help you get up and running.
Product Details:
Seats Up To 4 People.
Heats up to 40-C (104-F) And Includes A Lay-Z-Massage Jet System.
The Leading Range & Bestseller In The UK.
Dimensions:- 80 x 64 x 51 cm – 33 Kg .
Boxed Weight 32-KG
Free delivery.
Pay Monthly Options Available.
The Miami is a portable and durable hot tub that you will find easy to set up, It boasts 81 airflow jets that penetrate the water to massage you, and maximum heat is 40 degrees, It uses a Tri-tech material within the walls to add durability, Holds 2/4 Persons comfortably.
Pro's
Made with thick made to last material.
Cheaper than other similar models.
Con's
A smaller hot tub that only seats up to 4 persons maximum.
No ground base included.
Only has 81 air jets.
Conclusion:
Overall it's one of the older units now, that being said, technology has moved forward on other available Lazy Spa Miami models from 2021 which aren't much more expensive considering they have newly added features, one being winter freeze shield, That said the 2019 is still a great contender in the inflatable hot tub range for its positive online reviews over the years.
Last update on 2023-09-23 / Affiliate links / Images from Amazon Product Advertising API
---
Lay-Z-Spa Vegas – Medium Size Inflatable Hot Tub, Holds 4-6 people:
Product Description:
Offers Luxury, Relaxation, Comfort, And Portability.
Outstanding value for money, Ease into your Lay-Z-Spa Vegas at the end of the day and feel rejuvenated by the 40 C water temperature and Lay-Z massage jets. Comfortably fitting 4 to 6 people the spa can be used both indoors and outdoors, very easy to set up.
Product Details:
Easy To Set Up In Minutes
Seats Up To 6 People.
Dimensions :- 86 x 46 x 60 cm.
Boxed weight 32-KG.
Heat Installation Cover Lid.
Massage Jets With Digital Controls
Pay Monthly Option.
Pro's
Seating for up to 6 persons comfortably.
Warranty included for 2 years piece of mind.
Con's
Doesn't come with a protective floor mat.
Make sure to ask for the correct plug as comes with the EU plug as standard.
Conclusion:
The Lazy Spa Vegas is an all-time favorite but there are newer models coming out all the time that have upgrades compared to this unit, but it is a good unit that being said. it has all the functions you would expect from it, just in our view it is an earlier model/unit, but it still does what it says on the tin.
All in all, it's a fairly priced unit that's not to be missed if you are on a tighter budget, otherwise, we recommend reading on to see other upgraded models of the lay-z-spa hot tubs below, Or take a look at the Canadian Spa Range of inflatable hot tubs.
Last update on 2023-09-23 / Affiliate links / Images from Amazon Product Advertising API
---
Lay-Z-Spa Paris Inflatable Hot Tub, Holds 4 -6 Persons:
An award-winning very well made hot tub consumed by more than 250,000 customers to date, Lot's of positive reviews online, The tub comes with a two-year piece of mind warranty, heats up to 40 degrees although our research suggests up to 37/38 degrees is the perfect temperature which is just hot enough without breaking into a sweat,
You can enjoy the massage effect from its housed 87 powerful jets along with a built-in subtle multi-coloured LED lighting strip which fits into the base of the hot tub and also changes colour via remote control to help you feel more relaxed in your tub by setting the mood that you want, the tub benefits from a number of other features including.
Features:
Made With Strong Durable Materials.
Padded Flooring For Extra Comfort And Further Protection From the Ground.
Optional Floor Matting For Extra Protection.
Built-In Timer Which Saves Energy when The Tub Is Not In Use.
Simple To Set Up Even For A Novice – No Tools Required.
Holds Up To 806 Litres Of Water, Has A Minimum and Maximum Levels Indicator On The Side Wall.
Simple To Use Control Panel and Remote Control With Handy Wall Pocket For Safe Keeping.
Walls Constructed With A Strong Stable I-Beam Technology For Longer Lasting Durability.
Heating Speed Ability Of Up To Two/Three Degrees Per Hour.
Handy Manual Control Buttons:
Water Filter Activation.
Heat Activation.
Temperature Adjust Hourly.
Power Saving Timer.
Massage Activation.
Celsius To Fahrenheit.
Lock and Unlock.
On/Off.
Remote Control – For LED Lighting With Optional Colours.
You can expect the tub to take up to 20 hours to reach maximum temperature before you can get in and enjoy the relaxing hot water Unless you use a mixture of hot and cold water to speed things up.
You would need to follow these instructions to add the correct amount of chemicals to the water to ensure safety precautions, Comes with recommended optional starter kit which you will find to be a handy piece of kit for perfect results for your water treatment correction, simply add the recommended amounts of water treatments and use the testing strips to ensure you have the correct balance of water which is suitable to bathe in.
Set Up Your Inflatable Hot Tub In 4 Easy To Follow Steps:
Inflate Your Hot Tub.
Attach Your Pump.
Fill With Water.
Keep Up the Maintenance.
The jets and heater can run simultaneously on the Paris model
Stylish looking made with durable materials.
7 different LED colours.
Comes with only a bubble floor mat which isn't really enough protection.
Would need to buy a protective floor mat for added protection.
Only seats 4 persons in a comfortable manner rather than 6 people.
Conclusion:
Overall a good choice of tub within the lazy spa range, a little more thought has gone into the build quality with its sturdy construction which makes a difference with the durability of the model compared to other inflatables which don't have the I-Beam technology which is said to be one of the best types of protective barriers for inflatable hot tubs.
Sale
Last update on 2023-09-23 / Affiliate links / Images from Amazon Product Advertising API
---
New Model – Lay-Z-Spa Palm Springs Hydro-jet – Holds 4 – 6 People:
Modern Advanced Structure
This award-winning hot tub has 120 jets integrated which will massage you until your heart is content, it has stronger Tri-Tech three-ply material which was developed by lay z spa to improve the overall strength and durability of the unit, Tri-Tech material is made up of I-beam construction that is resistant to bending and squashing, The material is also puncture resistant. this unit is made to last compared to other inflatables.
This tub can be used indoors or outdoors, when using indoors you must make sure the room is ventilated well to eliminate mold and condensation problems inside your home.
The unit reaches a maximum of 40 degrees with a rapid built-in heater which you can control from your external control panel where you can also control the jets and also set the timer for your heater to come on when it suits you.
High Walled Sized Structure
The tub has higher than usual walls being 71-cm high where you will benefit from it holding more water and allowing more room in the tub to relax and enjoy your spa, it's also 1.96-meter in diameter which makes it quite spacious for a medium-sized hot tub.
Easy to set up with no tools required, Also comes with a user manual to help you get set up, Lay-Z-Spa offers a telephone helpline should any problems arise with your tub, in most cases any problems can usually be sorted over the phone.
Pro's
It has more jets than any of its other models
It holds more water than any of its other models
Its has a stronger construction than any of its other models
Con's
It costs more than other similar models
Conclusion
A good quality unit overall, A more expensive unit that does come with added benefits for the extra money including the strong material construction, deeper water, and more air jets than their other models.
Sale
Last update on 2023-09-23 / Affiliate links / Images from Amazon Product Advertising API
---
Lay Z Spa Hawaii – Award-Winning Square Hot Tub – Holds 4 /6 Persons:
Made Of New technology Stronger Material
The Lay Z Spa Hawaii is a medium-sized strong tub that is made up of extremely good quality tri-tech material which is made up of three layers of material for added extra overall strength when compared to other models,
The cover lid it comes with is also insulated with tri-tech material with added safety straps to clamp it down tightly which keeps the heat in and the kids out while the tub is not in use.
The walls are made up of a Y-Beam construction technology making the walls much stronger and more sturdy yet comfortable all the same,
You will find that this square model actually gives much more room than the round models when you have the tub full of people which makes for a much more comfortable and sociable bathing experience whilst having the room to spread out your arms and legs more easily.
The tub has a built-in ground fault detection system that monitors the earth connection from your power supply and is good at all times to ensure your safety from your main power.
Specifications
120 Massage jets
Size – 1.80 x 1.80-metres square
Heats up to 40 degrees
Built-in energy-saving timer
Plugs into a standard household socket – 240-v
Integrated adjustable chemical dispenser
Comes with 2-year warranty and dedicated customer support
Easy set up – No tools required.
Pro's
Made to last construction
Plenty of room for bathing
Good value for money considering its quality build
Con's
Only available in one colour to date
Overall Conclusion
An overall good choice of lazy spa hot tub for its tough durability and strength qualities which almost stacks up to the foam walled hard sided hot tubs in comparison and it is fairly priced against its competitors.
Last update on 2023-09-23 / Affiliate links / Images from Amazon Product Advertising API
---
Lay Z Spa Maldives Hydro-Jet – Biggest Square Inflatable Hot Tub:
The square-shaped Maldives is more durable and built for comfort, Designed to seat up to 7-persons being just over 2-meter square in size, it's a step up from other models whilst being made with Tri-Tech materials that make it a strong robust hot tub, it has a cushioned floor with built-in inflatable seats that help you relax more comfortably than sitting on the floor like you would in most other inflatables.
Jets:
It has 140 powerful massage jets including foot massage jets to the bottom of the tub, It also has 8 directional hydro-jets built in that can be adjusted to your liking whilst offering you the experience of sitting in an acrylic spa-type hot tub.
Heating:
The tub heats up to 40-Degrees max.
Seating:
The tub is just over 2-Meter square which allows Seating for up to 6/7 persons maximum.
Lighting:
Built-in aqua glows colourful LED's that change colour automatically.
Water Chemical Dispenser:
Comes with a clear-soft chemical dispenser and chemicals to help keep your water clean and your maintenance to a minimum.
Control Panel:
Easy to operate control panel to adjust your heating, massage intensity levels, set timers for heating whilst tub is not in use.
Hot Tub Cover Lid:
Comes with an inflatable cover lid with locking straps you can use to tightly close your tub whilst not tin use.
The Maldives is easy to set up with no tools required at all, it comes with a pump where you would simply just plug the pump in, attach it to the tub inlet valve and watch it inflate in less than 10 minutes, it's then ready to fill up with water.
Pro's
This tub has a lot more to offer compared to earlier models.
Strong and durable outer and inner linings.
You get the feeling of sitting in an acrylic spa with the pro-jet system.
One of the biggest inflatable hot tubs available.
Con's
Known to take quite a lot of electricity to maintain high temperatures.
A high price to pay for an inflatable.
Fantastic online reviews.
Conclusion:
Probably one of the most expensive in the lazy spa range but I will say they have pushed the boat out with the large size and tri-tech materials to be able to justify the price I suppose, If your looking for an inflatable with a lot more to offer then it's not a bad choice but it does come in the price range of the more durable and desirable hard sided
foam walled hot tubs
that are also available and much more durable again to say the least.
Last update on 2023-09-23 / Affiliate links / Images from Amazon Product Advertising API
---
Lay Z Spa St Mortiz Airjet – Biggest Round Inflatable Hot Tub, Holds 5-7 people:
The Mortiz is a later model designed with a rattan style finish that looks nice and modern, it's one of the largest round inflatable hot tubs that lazy spa has produced to date of 2021 making it more suited to bigger families or those throwing big parties with lots of friends coming over.
The Mortiz is one of the biggest inflatable hot tubs being a huge 2.16-m x 2.16-m in diameter and 71-cm deep allowing for more water to be added and more people to bathe comfortably within the given space this hot tub offers.
It has 140 air jets which is much more compared to other models out there which in turn will improve the massaging experience in the tub.
It has an upgraded rapid heating system which will heat the tub up to 40-degrees much faster than previous models by lay z spa, Though you can still expect it to take up to 20-hours to reach a maximum temperature of 40-degrees, With a Built-in energy-saving timer to help save on electric when not in use.
Made up of Tri-tech material with rattan print for modern looks, made to take a bashing from the kids, less prone to punctures being more durable than a standard inflatable such as the mspa inflatable hot tub.
Comes with a lockable cover lid, Floor mat protector, Chemical floater, 2 x filters and set up DVD.
Pro's
Strong durable tri-tech material hot tub
One of the larger inflatable hot tubs
Huge amount of jets x 140
Con's
One of the most expensive lazy spa models.
Conclusion
Again one of the most expensive lazy spa models, it has to be said that for the price you would basically get more space, more jets, more sturdiness, and durability. Apart from that, the Mortiz model is priced in the range of the more admirable hard-walled hot tubs that are designed to last longer than inflatables yet in this price range.
Last update on 2023-09-22 / Affiliate links / Images from Amazon Product Advertising API
---
Tips To Maintaining Your Hot Tub:
You should Regularly clean the filter cartridge just by taking it out and hosing them down, then place them back in, and you are good to go, new lazy spa filters are something else to consider going forward to keep your tub up to date and in good shape.
You should also consider using pool chemicals with a chemical floater to take care of your water treatment, just add the tablets to the floater, and you are Done.
When storing your unit, you want to make use of the protective caps provided for your hose inlets/outlets to protect all fixtures and fittings whilst in storage, then completely empty your tub and close off all the drainage caps tidy for best results.
When taking your unit apart, make sure all the seals are correctly in place whilst you're putting it back together, a poorly placed seal can result in leakages you don't need for something so simple.
Ensure all screw caps are tight but not too tight where you can't get it off, Just hand tight with that extra little turn is good enough to make sure you don't have any leaks.
---
Should you wish to ask a question about our lazy spa hot tub reviews or leave a comment or even a review for any of the products on this page, please use the comment box provided for you below, your comment/review will be publicly displayed on this website.
You Might Also Like: