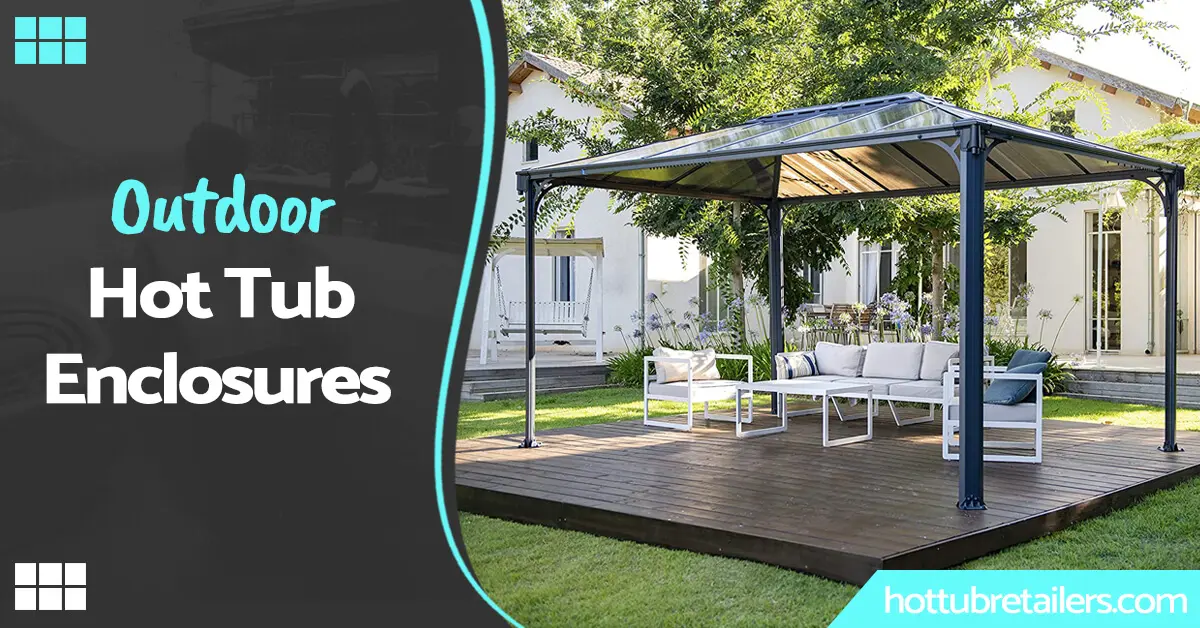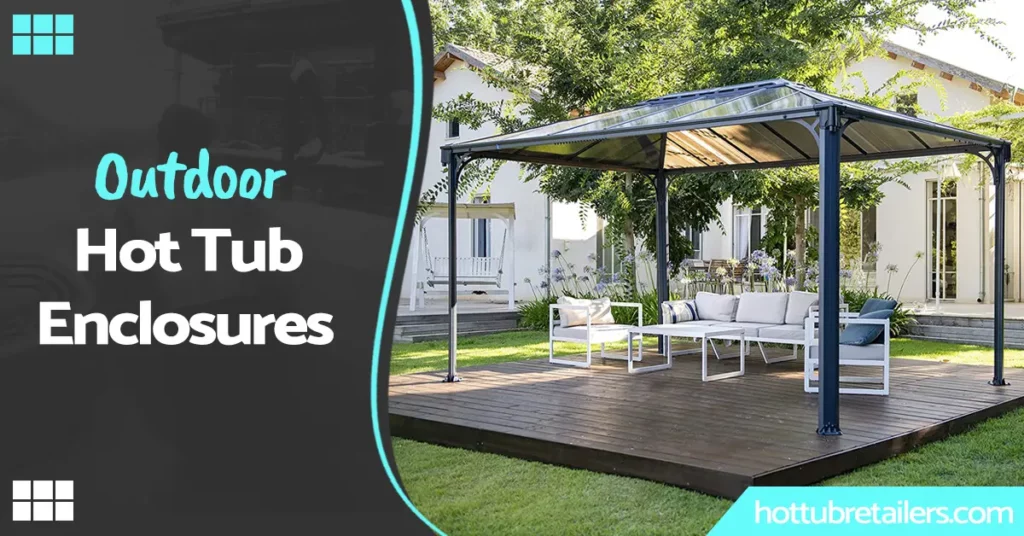 There are many benefits that come with outdoor hot tub enclosures, they are helpful to have in many ways such as privacy probably being one of the main reasons why any of us would want an enclosure for our own hot tub.
Disclaimer
Our site is reader supported, this means we may earn small commissions from Amazon and other affiliates at no extra cost to you if you buy through links on our website.
Three Main Reason's Why You Should Use Outdoor Hot Tub Enclosures To Your Benefit:
To protect your tub from the elements whilst it's left outdoors
To be able to fit nice lighting to set the mood just right for the occasion
Protect yourself from unwanted wind and rain
The possibilities are endless for having a hot tub enclosure for your tub, It is just going to be a much better experience all round, With a good enclosure you can use your hot tub all year round without the hassle of bad weather interrupting your relaxing time in your tub, also an enclosure will reduce wear and tear and possible damages to your tub whilst being left out in the elements.
There Are Typically Three Main Ways Of Setting Up an Enclosure For a Hot Tub.
Pop Up Gazebos & Commercial Grade Gazebo Enclosures:
1. One is a standard hot tub gazebo enclosure which comes in all shapes and sizes to suit your needs, when using a gazebo to cover your hot tub it's important that you choose the right one that suits your specific needs,
this will depend on whether or not you plan to leave it up permanently or you plan to go for a cheaper model which will need taking down every day after use or you run the risk of the weather causing damage to your gazebo,
The more expensive commercial grade gazebos are typically made up of much more sturdy materials when it comes to the framework where they can be left out in bad weather conditions providing it is securely fixed to the ground.
Wooden Hot Tub Enclosures:
2. Another option is a wooden hot tub enclosure with an attached roof which is a more permanent option that will last for many years out in the elements compared to a standard gazebo enclosure,
the wooden enclosures are more suited to a hard-standing luxury hot tub or a much more durable hard sided hot tub which are both more permanent type hot tubs compared to a regular inflatable hot tub. .
Glass Hot Tub Enclosures:
3. The last option is a permanent outdoor glass hot tub enclosure which is basically a garden room made of a glass framed construction with windows and doors,
made up of a steel frame structure with UV-protected glass panels that protect you from the sunlight and keep the glass room at a nice temperature whilst your bathing in your hot tub, for privacy, there is tinted glass and the option to hang blinds or curtains for complete privacy.
Standard hot tub gazebo enclosures are more for the inflatable type models where they can easily be removed once you're finished with it, whereas a wooden enclosure or a glass garden room is more suited to a permanent standing hot tub. This guide should help you decide which enclosure is best suited to your needs.
Outdoor Gazebo's Or Wooden Enclosures – Which Is Best Suited For You ?  "Or Could It Be A Glass Enclosure" ?
---
Wooden Outdoor Hot Tub Enclosures: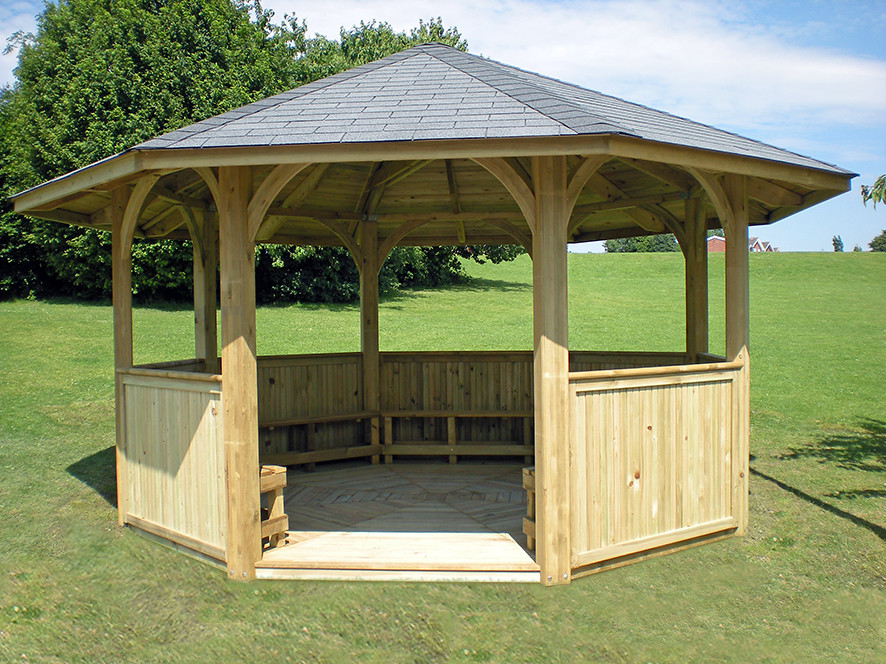 Outdoor wooden hot tub enclosures are solid wooden structures that will last for as many years as you want them to, it's recommended to apply wood-stain or clear varnish to wooden enclosures every 4 /5 years, as this will help keep it in nice new looking condition.
Wooden enclosures are a more permanent choice where you want to leave your tub out permanently, this choice is usually suited to a much stronger hard shell outdoor hot tub that is designed to withstand the elements where it is made to be left outside at all times and stand the test of time whilst left out year after year.
That Being Said, They're good for inflatable hot tubs as well, it's just recommended to add extra protection to the tub if left out for long periods of time, a decent protective hot tub cover is always going to help in keeping your hot tub in good condition, using a tarpaulin sheeting as an extra layer of protection would also do the trick!
The benefits of a wooden enclosure
Having a wooden enclosure is going to benefit you in quite a few different ways such as protecting your tub from the outside elements, you will benefit from creating a nice cozy yet private enclosure for yourself compared to sitting out in the open air.
Having an enclosure with lower side walls is another benefit compared to an open enclosure, this will help block the wind, cut down on heating costs heating your tub will help with general cleaning to the inside and outside of your tub while it's covered up from every angle keeping the heat in and the dirt and debris out.
Wooden enclosures come in various styles and various sizes, some are made to measure, and size is something to definitely bear in mind.
It depends on how much room you would want around the outside perimeter of your Hot Tub when you have placed it down on the ground before deciding what size Enclosure you are going to need to house your tub comfortably with room left around the outside.
TIP >>> Always check the size of your Hot Tub against the size of the Gazebo!
>>> See Full Review On Wooden Hot Tub Enclosures
---
Gazebo Hot Tub Enclosures: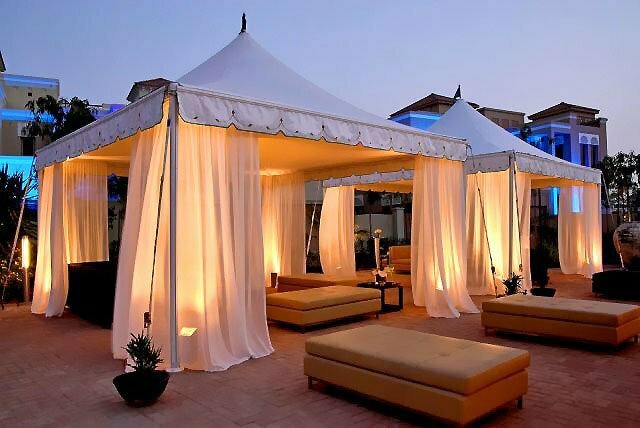 Size Tips
Gazebos come in all shapes and sizes from small to really large, depending on what you're wanting to achieve for the given space will depend on what size gazebo you will want to get.
If you're considering a hot tub and a minibar inside or you just want extra room around the tub whilst it is housed with a gazebo around it then make sure you allow the room for this whilst choosing what size you go for.
Some gazebos are commonly square and some are rectangle, even round in some cases, they can look really nice in your garden, they also come in lots of available different colours you can choose from, Just be aware of the space you have got to house the gazebo which will depend on which size you might want to buy.
Quality?
The thing to look out for when looking to purchase a pop-up gazebo is most importantly the quality of the actual metal framework the canvas fits around!  Some are ridiculously weak but look good on the outside with the cover on,
Others have a much more sturdy solid steel frame which is usually reflected in the price but well worth considering looking at if you're planning to take it up and down regularly.
Setting Up A gazebo
Setting up a pop-up gazebo is very simple where its out of the bag and up in no time at all once you get the hang of things,
The more difficult gazebos to set up are the more permanent type gazebo where there is a combination of separate pieces you will have to put together which can be easy for some people, But quickly become a headache for the not-so-DIY person.
But they all come with user manuals to help you, Tools if needed, and set-up instructions which are all pretty self-explanatory and user-friendly.
Precautions – Tips For Looking After Your Gazebo:
Looking after your gazebo something you should definitely bear in mind from the off,
The Weather
As in the wind for instance, if your gazebo is not trapped down by some type of weights or pegs then you could soon be in trouble if the wind pick's up and takes your gazebo up in the air, "I've seen this happen myself"
Take Care When Erecting & Dismantling
Taking a pop-up gazebo up and down regularly will decrease it's efficiency much sooner whilst it's in constant use, you must always keep things symmetrical whilst maneuvering the gazebo up or down as they are prone to bending under pressure if not positioned correctly whilst you take them up and down,
So take your time and keep things Straight and Aligned Correctly before you apply pressure to be on the safe side and avoid disappointment, in nice and easy does it style.
Go For A Heavy Duty Commercial Grade Gazebo
That being said, There are much better heavy-duty commercial gazebos that will withstand a beating on a daily basis without any problems, so keep in mind what you are going to need from your gazebo and how much work you are going to put it through before you buy one for your needs.
>>> See Full Review On Hot Tub Gazebo Enclosures
---
Framed Glass Hot Tub Enclosures – Open Or Closed:
Glass enclosures are super stylish, and simply stunning to look at but some of them do come at a much bigger price, but not all of them, they are a superb option for a long-lasting enclosure providing you have a good budget.
All self build flat pack item's with manual instructions included to help you get set up easily.
Having a glass enclosure is like adding a small extension to your home as they are of a more permanent construction where you can go outside away from your main house and relax in the piece and quiet away from the day-to-day household environment.
They can also be used for various different outdoor occasions apart from just housing your hot tub including family gatherings such as barbecues.
Styles
They come in a completely enclosed environment to an open style Gazebo structure and a Lean-to style, All complete with a solid aluminum framework which is rust proof with super strong poly-carbonate roof panels which are designed to be shatter-proof at the same time as being weather resistant,
The build quality ensures you will enjoy many years of use from these type of outdoor hot tub enclosures that are made to last by using only the best quality of build materials and resist all types of weather.
>>> See Full Review On Glass Hot Tub Enclosures
---
Should you have experienced or owned any of these types of outdoor hot tub enclosures mentioned on this page then feel free to share your experiences by using the comment box provided for you below, we look forward to hearing your thoughts.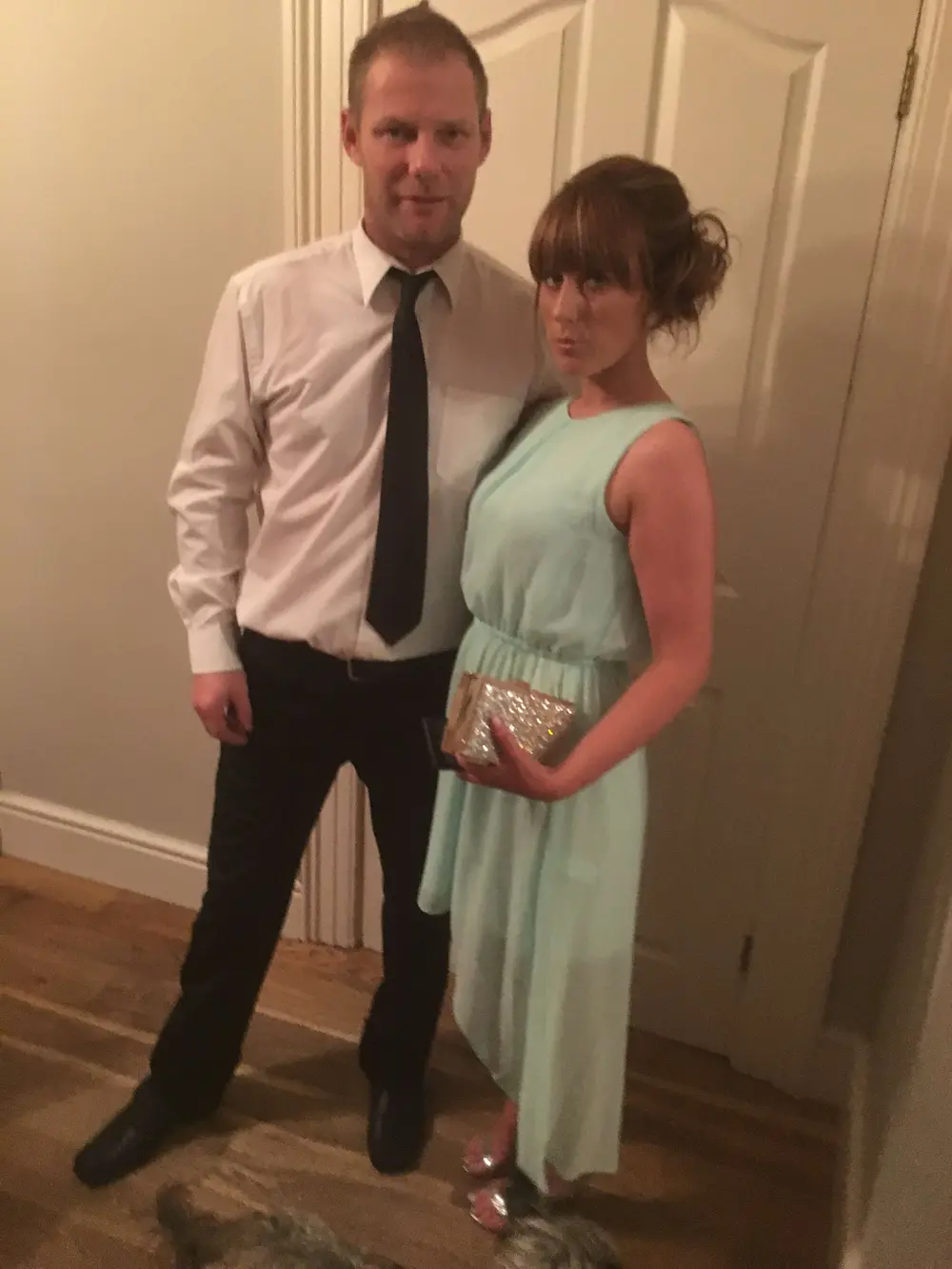 I'm Simon the owner of this website, I've had years of experience in the hot tub hire business and pool water maintenance where I learned a thing or two about hot tubs and water chemistry which I share here on my website. Learn more