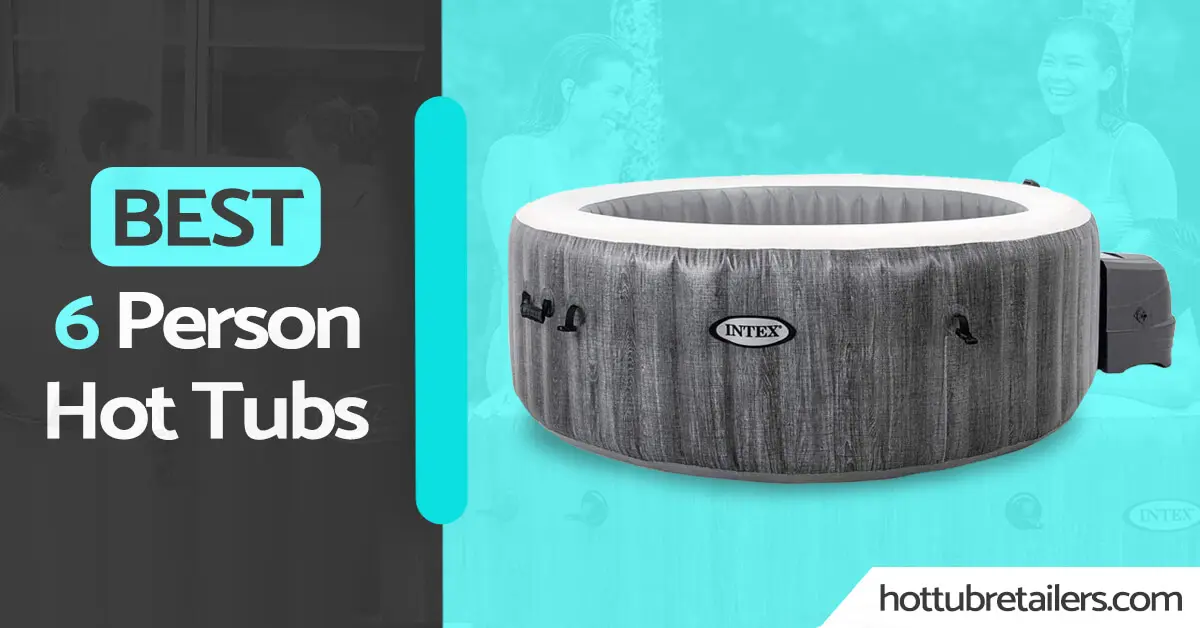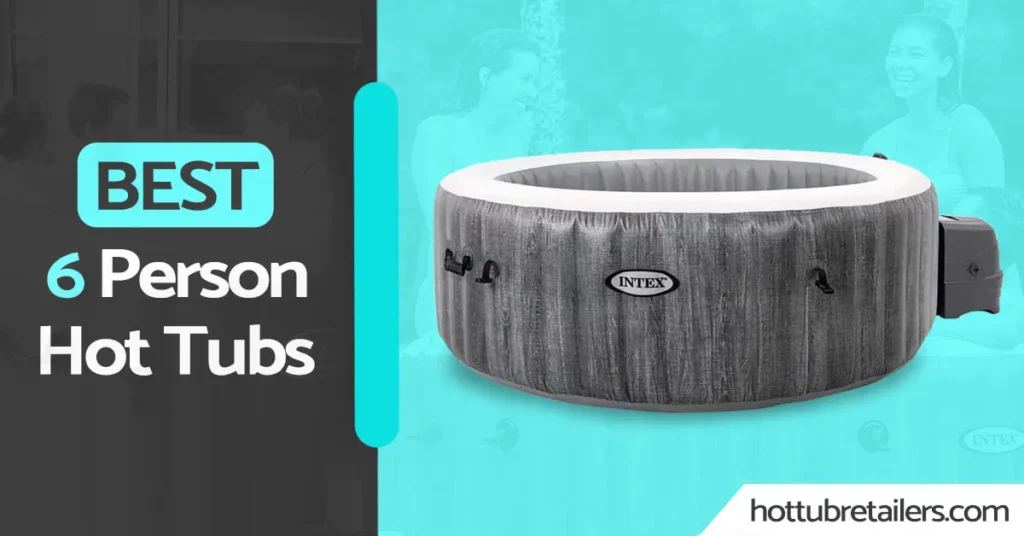 Iv'e put together a shortlist of five specifically selected hot tubs below, These are what we think to be the best 6-person hot tubs currently available with a few reasons why I think they are the best after doing a tonne of research on the models listed below.
We've also included some other hot tubs and included a helpful buyer's guide and a FAQ section to hopefully answer any questions you may have about hot tubs.
The reviews below are based on either actual product use or have been heavily researched both online and in retail outlets.
Disclaimer
Our site is reader supported, this means we may earn small commissions from Amazon and other affiliates at no extra cost to you if you buy through links on our website.
A hot tub is a tried and true method for reducing stress and treating yourself. The hot water and jets can also help to ease any aches and pains you might have, in fact, hot tubs come with many health benefits.
The issue is that most permanent hot tubs can run up bills up to tens of thousands of dollars, use huge amounts of energy to heat up, and take heavy maintenance to keep smoothly running.
Permanent hot tubs are also much bigger and once fitted would take a large amount of manpower and a hefty investment to move. 
If you haven't got the space in your garden or on your terrace then fitting a behemoth of a hot tub; with its filtration system and its need to be plugged into the main water line, a permanent hot tub could be a terrible investment. 
Thankfully there are much easier to handle inflatable hot tubs which are much more cost-effective options available. 6-person hot tubs can be small enough to fit on a patio whilst still being able to give you that hydrotherapy that you might need after a tough day at the office or an intense gym session.
What's more, is that most of these hot tubs listed here on this page are inflatable meaning you can deflate your hot tub for easy storage once you've had a dip. The inflatable models also decrease the water and running costs. A standard amount of chemicals can last you months if not years if used correctly. 
Our Top Choice In The Best 6 Person Hot Tubs – Intex Pure-Spa Greywood Deluxe:
The Pure-Spa Deluxe from Intex is the most premium inflatable hot tub currently on the market. With all of its features and accessories, you'll never need to pay for a spa day again. 
This 6-person tub has a capacity of 290 gals of water and measures 85 inches in diameter meaning you won't have to worry about the group fitting in together. 
Intex uses a Laminate PVC with their patented Fibre-Tech material that is flexible and has high heat retention whilst still being lightweight.
The 1300W heating system is powerful enough to heat the total volume of water in very little time. There is also a timer system that allows you to slowly preheat the tub before use.
The filtration system has a flow rate of 460 gals/hour and can easily keep up with the capacity. It also comes with a hard water treatment system built in.
This is a circular hot tub with a diameter of 85 inches.
When running at high temperatures the tub can cost you quite a bit in electricity costs but the powerful filtration system can reduce your total running costs.
The tub comes with a large number of different accessories and features including an insulated cover, 2 foam headrests, a built-in inflation system, and a battery-operated LED light.
The floating chlorine dispenser also helps with cleaning.
Pros
With a diameter of 85 inches, this is more than big enough for a party of 6.
The insulated cover, ground cover, and inflation system make it so that you can set this tub up quickly.
The wireless control panel is easy to use and feels premium.
There are 170 bubble jets that work to soothe you and increase your relaxation.
Built-in hard water treatment system.
Cons
If the battery-operated LED light isn't tightly fastened it can become damaged.
Conclusion:
Our top choice because this tub has been so well made it put inflatable hot tubs in a different class, it's comfortable to the touch and feel as it's made with excellent quality materials, it's very sturdy when blown up, it holds the heat in very well compared with other hot tubs and comes with everything you need to get set up all in one box, it also boasts numbers of positive online reviews with many happy customers.
No products found.
$819.99
$988.99
in stock
1 used from $752.65
as of November 25, 2023 8:10 am
Last updated on November 25, 2023 8:10 am
---
Runner Up In The Best 6 Person Hot Tubs Is The – Bestway SaluSpa Helsinki:
No products found.
Runner Up
Similar to the last tub this is also an inflatable tub with a wooden effect on it. The 71-inch tub has thinner walls than the last tub and therefore has a similar capacity despite its smaller diameter. known to fit up to 7 average-sized people
This hot tub is constructed from a triple layer puncture-resistant vinyl that has been split into separate panels to increase heat retention. 
The all-in-one pump solution makes this hot tub perfect for smaller spaces and can easily be used on decking. The pump not only filters and heats the water but also inflates the hot tub and takes up very little space. 
With a circular shape and thinner walls, this tub actually has a capacity of 297 gals and plenty of room for everyone to fit in.
Unfortunately due to the thin walls the water needs to be pumped through the heater a bit more to keep it up to temperature. Bestway also added an energy-saving preheat feature to reduce running costs. Despite this Bestway includes a ChemConnect dispenser to distribute chlorine while the tub isn't in use. Hot tub running costs aren't huge but your electricity bill will show the sign of having this hot tub. 
This tub doesn't come with a large number of extras but you are able to easily get up and running with the included insulated cover, the pump, chemical dispenser, and filter cartridges. You don't get a lot of extra luxuries but the essentials are all you need.
There are 83 bubble jets built into the base to increase your spa experience.
Pros
With its thin walls, this tub actually has a higher capacity than the last one on the list (up 7 people). 
With a power-saving timer and a maximum temperature of 104°, you get a spa experience at home.
The Chem-connect dispenser connects to the filter nozzle to evenly distribute chlorine. 
This no-tool assembly makes it easy to put together.
Suitable for all-year-round use with winter freeze technology built-in.
Cons
The thinner walls reduce overall heat retention but increase the internal capacity.
Conclusion:
The runner up choice because it's an award-winning hot tub at the same time as being one of the top sellers in the UK, It's a good choice for those who are looking for a large 6/7 person hot tub they can use all year round, it's extremely well made with hard rigid walls, yet very comfortable, you can expect this hot tub to outlast most inflatables in its price range, It also boasts a number of positive online reviews.
No products found.
$743.92
in stock
5 new from $743.92
5 used from $664.36
as of November 25, 2023 8:10 am
Last updated on November 25, 2023 8:10 am
---

My third Choice In The Best 6 Person Hot Tubs Is The – Intex Pure-Spa Plus Inflatable:
This is the slightly less premium version of our top pick. It functions virtually identically to that model without a couple of the premium features included. 
With the same dimensions as the PureSpa Plus, it has an 85-inch diameter and a 290 gals capacity. 
The materials are also exactly the same with a triple layer laminated PVC and Fibre-Tech beams being used to create the main body of the tub.
This one also has a 1300W heater that can be used to quickly heat up the water or you can use the power-saving feature to slowly preheat. The filter is also powerful enough to keep large debris out of your way. 
The major difference between the 2 tubs is the external covering, the control panel, and the headrests. The external covering is slightly less robust and isn't textured like wood, the control panel is fixed to the pump and can only be tilted instead of being wireless, and the headrests are inflatable instead of being made from high-quality foam. 
Pros
High-quality, Intex builds quality and reliability. 
The high flow rate and proprietary filters can easily keep the tub clean and feeling premium.
The 170 bubble jets massively increase the relaxation factor of the tub.
The puncture-resistant 3-ply PVC is durable enough to be sat on the grass for long periods of time.
Cons
The inflatable headrests have rough edges along the side and can be uncomfortable in the wrong position.
Conclusion:
Our third choice in this list is mainly because of the higher price compared to the above models, though this tub stacks up with all the features and positive online reviews as the others listed here, it comes at a much higher price where there are no added benefits to resemble the price.
No products found.
$1,249.95
in stock
as of November 25, 2023 8:10 am
Last updated on November 25, 2023 8:10 am
---
Last Choice In Best 6 Person Hot Tubs Is The – ALEKO Round Inflatable:
At 82 inches this tub sits between the different tubs on our list and easily leaves enough room for a 6-person party. The internal diameter is only 63 inches but this shouldn't be an issue for most people. 
The tub is constructed from high gauge PVC and is resistant to punctures and heat leakage. The insulation panel system keeps heat in without increasing the footprint of the hot tub too much. 
The heating and filtration system are powered by a 1500W power supply. The heater is 900W and the filtration system is 600W. The lower-powered heater takes longer to heat up to the maximum temperature of 104°.
This is a standard circular tub without many extras and the price reflects this. Despite its size, the tub has a capacity of 265 gals.
The hot tub only comes with an insulated cover and a ground cover. Enough to get you up and running but not a huge amount of extras. The tub also has 130 bubble jets capable of massaging you whilst you soak. 
Pros
With an 82-inch diameter and a 265 gals capacity, you won't have to worry about the space. 
The 1500W power pack is big enough to power the heater and the filtration system combined.
The 130 bubble jets are powerful enough to massage aching muscles and sore joints.
Cons
The low-powered heater takes a large amount of time to adequately heat the water.
Conclusion:
Being a much cheaper option you can't expect the quality you will get with the others in this review, ideal if your on a tight budget, Mixed online reviews both negative and positive.
out of stock
as of November 25, 2023 8:10 am
Last updated on November 25, 2023 8:10 am
---

Essential Hot Tubs 50-Jet Polara – Best 6 Person Hard Shell Hot Tub:
This is the only permanent hot tub on our list but it really makes up for the shortcomings of an inflatable hot tub.
The tub measures 85 inches by 85 inches and has a maximum capacity of 6 people. Taking its square shape into consideration this is plenty of room and also lends to the 400 gals water capacity.
The heating system, jet system, and the filtration system is really where this one shines. This tub has a year-round 4000W heater built in that is almost 4 times as powerful as all of the other tubs on our list.
The jet system and filtration system lend their effectiveness to the dual pump system that can rapidly process the water and shoot it out through the 50 heated water jets. The pump system is so effective you even have use of a waterfall feature. 
The shape of this stainless steel basin is perfectly sculpted to accommodate your guests while still having the option to use the captain's chair and lounger chair sections. These sculpted seats allow for maximum relaxation and focused jet massaging. 
With everything being built in there isn't much use for a large number of accessories but it does come with a premium, weighted hardcover that can keep the heat in even without the heater being turned on.
Pros
The highly durable, all-weather construction makes this tub perfect for anyone who has the space. 
The stainless steel sculpted seats and water jets allow for the most relaxing experience possible. 
With a built-in LED flow and waterfall feature, this tub promotes tranquility.
Cons
The premium tub comes at a premium price.
Conclusion:
This hardshell hot tub is a great choice if you're looking for a permanent hot tub, it also boasts a number of positive online reviews from very happy customers
$6,999.00
in stock
as of November 25, 2023 8:10 am
Last updated on November 25, 2023 8:10 am
---
Best 6 Person Hot Tub Buyer's Guide:
When you're looking for a good 6-person hot tub there are a few different factors you need to consider.
The first thing is the size including capacity, the material it is made from, the heating and filtration system, the shape, running costs, accessories, and cleaning.
Consider The Size Of Your Hot Tub:
The size of the hot tub is what determines how much space it will eventually need when inflated or fully constructed. The footprint of the hot tub matter because this will determine where you can actually place it and where it'll fit.
The internal dimensions are also worth considering as this not only determines the capacity of liquid but also the maximum occupancy.
A tub with a low footprint but high capacity will most likely have thin walls and therefore not be great at keeping in the heat. For a 6-person tub, you're looking at anything over 70" in diameter.
This should be large enough for most people as long as all 6 of you aren't 3 ½ feet wide. 
What Is The Best Material For A Hot Tub:
The material that the walls of your hot tub are made from will determine a few different things. Namely, the heat retention and the structural integrity. Most inflatable tubs will be constructed from a multilayered flexible plastic PVC of some type.
The more premium models utilize fiberglass acrylics or a rubberized material to increase structural integrity. In between the layers of external material that coat the inside and outside of the tub there is always a layer of insulation that helps with heat retention.
The cost and quality of this material hugely impact how long your tub will keep its heat in. Fixed tubs more often use a metal or hardened fiberglass acrylic material for the interior to reduce friction and increase relaxation.
Fixed tubs can also use thicker and more stable insulation materials so they inherently have better heat retention. You do however need to compromise portability and storage options for this extra insulation. 
Heating and Filtration
A hot tub would be an inflatable paddling pool without a heating system. In all the models that we've showcased today the heating system comes included with the tub.
The power of your heating unit will control how fast the tub can come up to heat as well as how much water you can have in the hot tub. If you are planning on having a 6 person get-together then you wouldn't need as much water due to displacement.
This means that the water will take less time to heat up. The filtration system is the main thing keeping your tub clean while in use. A good chemical treatment to the water is necessary if you're leaving the tub filled for any amount of time or if you're planning on using it multiple times.
The filtration system may also include some type of water treatment system like hard water or salt water system to reduce the number of times you would need to empty and refill your hot tub.
A good filtration system will increase the overall quality of the water in your tub meaning that you will have a much better spa experience.
Consider The Shape Of Your Tub:
The shape of your tub is quite closely linked to the size and capacity. The difference is mainly down to personal preference.
Most people would think that a rectangular or square tub is the best way to go to fit more people in, but it is easy to forget that the center of the tub isn't usable as seating space.
For this reason, most smaller hot tubs are actually circular. It's the inside perimeter that matters most. The difference in capacity is mostly negligible but if you have larger friends or just want more room then a circular tub should be your first option. 
Running Costs Of A Hot Tub:
The cost of one of these tubs is made up of a couple of different numbers, the initial cost, and the running cost. The initial cost consists of the cost of the tub and any fitting costs.
The running cost of a hot tub is made up of the cost to fill it, the electrical costs of the filter, pump, and water treatment system,
And the cost of cleaning chemicals you're going to need to maintain your hot tub to a hygienic standard.
A good UV filtration system and water treatment system can reduce the cost of cleaning but will increase the power consumption a little but at the same time, it will reduce the water maintenance you have to do going forward.
Most new modern acrylic hard shell hot tub models have UV Ozone built-in since 2021, some inflatable hot tubs also have UV Ozone built in, be sure to keep an eye out for this feature!
What Accessories Do Hot Tubs Come With?
Things like steps, top covers, and groundsheets are not always included when you purchase a hot tub, Always check our reviews thoroughly as we look out for this when we are doing our research, we always add these pointers to our pros and cons sections.
Any extras like the headrests, LED lights, and Bluetooth speaker systems that some of these tubs come with are a great addition to that spa experience you're paying for. Some come with a chemical starter pack.
Anything additional you get that isn't essential for the operation of the hot tub is an added luxury and adds to the value of your experience.
The type of jet is also an additional extra but every tub has one; it's simply down to you to decide which you prefer: water jets or air jets.
Cleaning A Hot Tub:
The cleaning of a small hot tub is relatively simple if you have an inflatable tub, simply clean the interior and exterior surfaces and replace the water that is currently in it and allow it to come up to temperature. See our guide on inflatable hot tub tips
If you plan on leaving the water in the hot tub between uses you may need to use a chemical cleaning solution overnight for best results, or first thing in the morning for sure. Hot tub water can turn bad quite quickly!
There is a multitude of different cleaning options, but you will need to spend time to ensure your water is adequately clean for you and your guests at all times. Avoid bleach but all household detergents are ok, White vinegar and warm water are best, with a touch of bicarbonate of soda or baking powder.
Your filtration system will catch and remove any large particulates but for the smaller germs and dirt particles, you'll need to pull out the chemicals. This is also the only option for all hot tubs. You have your work cut out to enjoy this luxury.
Frequently Asked Questions
Can You Use Lighter Hot Tubs On a Wooden Decking?
The smallest hot tubs only weigh about 1500lbs fully filled so shouldn't be an issue but larger 6-person tubs can weigh exponentially more.
If your deck is rated for 15+ people then you should have no issues placing one of the inflatable tubs on there. Also, you must ensure your decking is properly treated and stable so that it doesn't rot or swell from the treated water.
You can read our recent article to find out the best base for a hot tub.
Are All Of These Tubs Usable In Winter?
As long as the tub is covered during the colder months and slowly preheated before use you should be able to use any of these tubs in winter.
Any hot tubs listed here on this page will state in the content whether or not the hot tub you're looking at has winter freeze built-in, This is where you can just leave your tub switched on all year round and let it take care of the climate by the heater automatically kicking in when temperatures drop below the critical level.
The lazy spa company recently introduced winter freeze to all their new models in 2021.
There is a common myth that inflatable tubs are more prone to puncturing when cold and icy, but this is why you should slowly heat the tub up before use, especially if you have left it standing out in the cold, Always check your pipes are not frozen before turning anything on!
If you're planning on leaving your hot tub left out in the cold all winter, Then you should definitely consider taking the necessary steps you need to take to winterize your hot tub so it's safe and ready for use for the coming spring weather.
---
You Might Also Like:
---
Thanks for reading, Should you have any questions about the hot tubs listed on this page or you would like to leave a review, Then please use the comment box provided for you below.
We always reply to comments, questions, and reviews within 24-hrs.
We do not tolerate spam!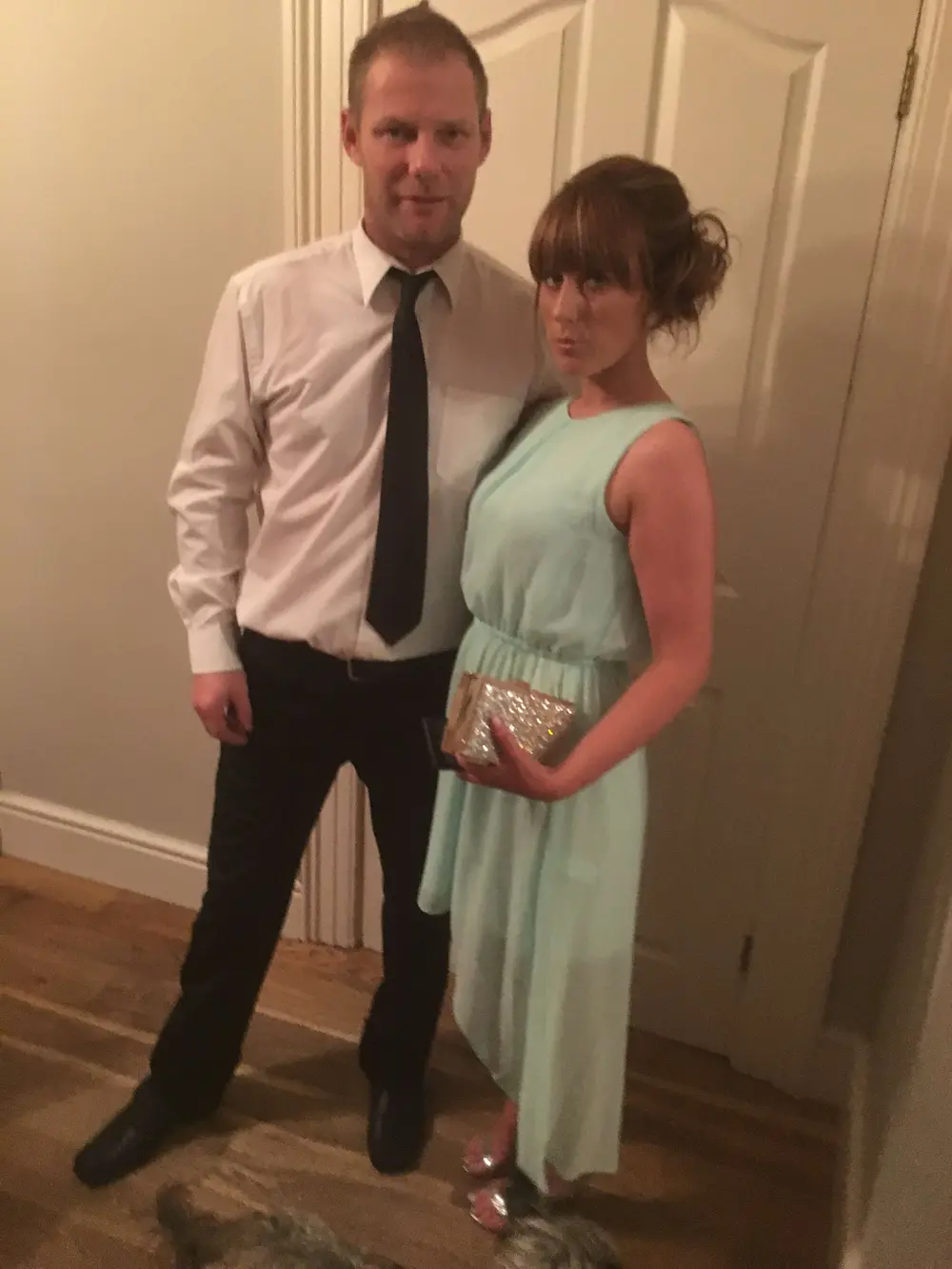 I'm Simon the owner of this website, I've had years of experience in the hot tub hire business and pool water maintenance where I learned a thing or two about hot tubs and water chemistry which I share here on my website. Learn more