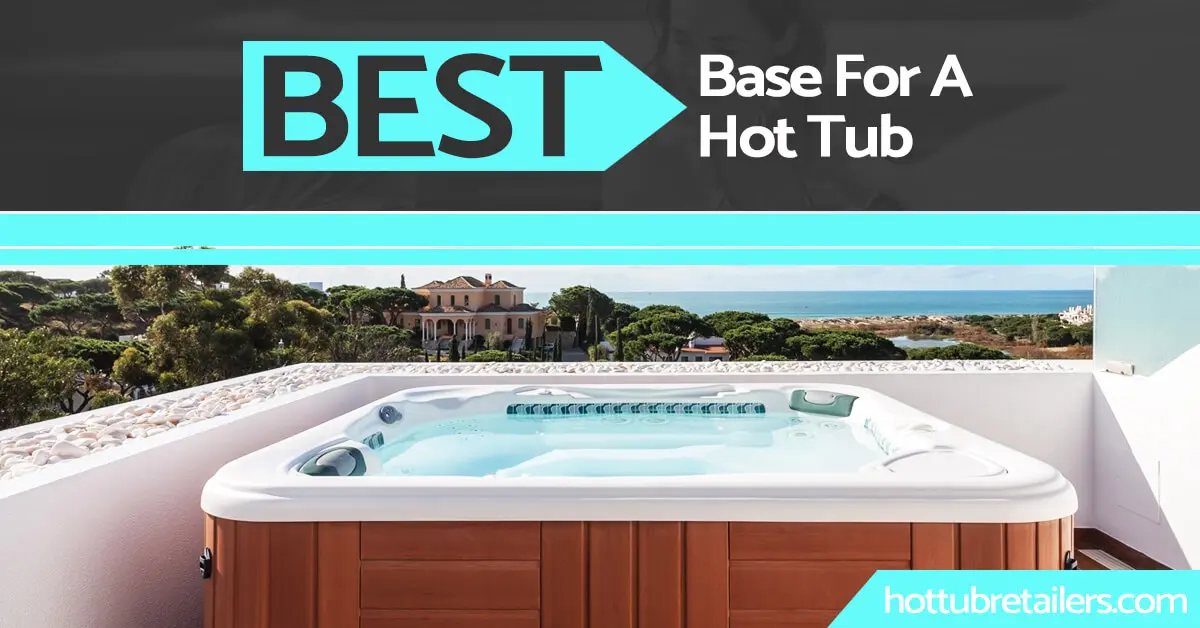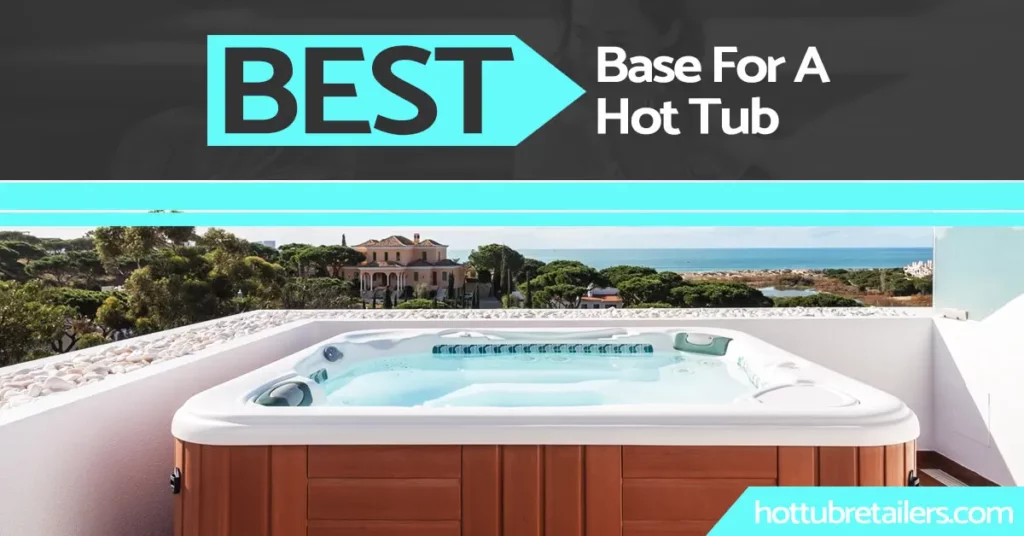 We are often asked what is the best base for a hot tub, well! it's always going to depend on whether you have an inflatable hot tub or a hard shell hot tub but we have a number of hot tub base ideas for you for both inflatables and hard shell hot tubs.
Arguably a concrete base is best because it will provide a solid flat surface without any lumps or bumps which could damage the underside of your hot tub.
When it comes to hot tubs, one of the most important things that you need to think about before setting up your tub is the base you are going to be using from the limited various options as explained below.
Disclaimer
Our site is reader supported, this means we may earn small commissions from Amazon and other affiliates at no extra cost to you if you buy through links on our website.
Different Types Of Hot Tub Bases:
Concrete hot tub Base
Paving Stone hot tub Base
Decking hot tub Base
Prefabricated hot tub Base
Gravel hot tub Base
Inflatable hot tub base
A concrete base is also fairly low cost and extremely low maintenance compared to some of the other options that you have for hot tub bases.
But if a concrete base doesn't work for your space then there are lots of other hot tub base options that you have available.
Another popular choice for a base is pea-gravel, and some people actually prefer this to concrete because it offers much better drainage ability.
Similar to concrete, gravel is also very low cost, and you can actually lay it yourself to avoid any labour costs.
Alternatively, some people prefer to lay decking beneath their hot tub, and others choose to go for a foam base on top of their existing garden.
What Is The Best Base For A Hot Tub?
Ultimately it is one that works for the space you have and offers all the benefits that you need from a hot tub base.
It's all going to depend on the ground you intend to use and whether or not the ground is suitable for a hot tub at all.
This article explains different types of suitable ground you can use for your hot tub base, both permanent and temporary solutions, along with some simple solutions to help you get set up with a hot tub base quickly.
Check Out The Video On The Best Base For A Hot Tub:
Concrete Hot Tub Base:
The top choice is a concrete hot tub base as it's always going to be the best option for a hot tub base whether you have an inflatable hot tub or a hard shell hot tub because it's the most solid base you can get.
Though it can take a bit of work to build a concrete base yourself as a DIY project or have a contractor do it for you, it's going to be a long-lasting end result you can expect to last for years to come so it's well worth the initial time and investment.
Paving Stone Hot Tub Base:
The next best choice is to lay patio-style paving slabs to your ground surface to create a solid foundation to place your hot tub on, Again it takes a bit of work to lay the slabs initially but ultimately worth it for long-lasting results.
Paving stones can be laid as a DIY job by firstly leveling the ground, Then adding hardcore to the level ground,
Then desirably use a whacker plate or the back end of a shovel to tightly press the hardcore together before laying the paving stones using a sand and cement mix of 4 to 1 ratio (4 shovels of sand to 1 shovel of cement).
Some paving stones are designed to be butted up together where no pointing up of gaps is required, other paving stones are generally designed to be pointed up.
It's recommended to use a 4 to 1 mix ratio of sharp sand and cement mix for pointing up which will result in long-lasting results.
If it all sounds like too much hard work! Get the contractors in, you can expect to pay up to a couple of hundred for a paving stone hot tub base.
Decking Hot Tub Base:
Another popular option is to use decking for your hot tub base but you need to think about the weight of your hot tub filled with water and the weight of the people in the tub, you might want to strengthen your decking if you're considering this option
There are a few options with decking, so you can either build a solid deck by leveling the ground to a flat surface and erect the stud-work on the ground with a strong timber structure to lay your chosen decking on top of. (Recommended for heavy hard shell hot tubs)
Or you may opt to use ready-made click-together interlocking decking pieces, these kits come in all types of modern designs from wooden composite decking to granite and tile, they can be placed on any type of level ground to form a good base for your hot tub.
(Recommended for inflatable hot tubs or the much lighter hard-sided hot tubs).
Last update on 2023-08-31 / Affiliate links / Images from Amazon Product Advertising API
Prefabricated Hot Tub base:
Prefabricated hot tub bases are purposely made to be very strong and they can withstand tonnes of weight "when laid out correctly on a flat ground surface" Bulletproof UV & weather resistant that will never Rot as they are made of toughened rigid plastic.
Built into the design of a prefabricated hot tub base is a natural permeable drainage system that allows water to flow naturally away from your hot tub keeping the underside clean and clear from holding water.
Simple and Easy to install affordable option that replaces the need for concrete, decking, and paving slabs providing they are laid correctly!
(Recommended for hard shell hot tubs) Not so suitable for inflatable hot tubs due to the sharpness of the hard rigid plastic material unless you use some sort of cushioning underneath your tub to protect it from the sharpness.
Hot Tub Base Kit – 231x231cm
Our 231x231cm Plastic Hot Tub Base is strong, lightweight, easy to...
Suitable For All Spas & Hot Tubs Measuring Up To 231cm x 231cm
Hot Tub Base Panel Depth: 40mm
Last update on 2023-08-31 / Affiliate links / Images from Amazon Product Advertising API
Gravel Hot tub Base:
A gravel hot tub base is an option, if your looking to build one then it can easily be done by building a solid square frame out of railway sleepers and filling it deep and compact with gravel such as pea shingles that offer great natural drainage capabilities.
Gravel bases are not so suitable for inflatables due to the sharp gravel digging into the soft material of the inflatable hot tub underside Learn More
Inflatable Hot Tub Base:
There is a number of options you can use for an inflatable hot tub base pad such as using a ground sheet mat on top of your existing surfaces such as grass, fake grass, your patio, or your decking.
That said it's always best to add a protective barrier between the bottom of your hot tub and the ground surface to help protect the underside of your tub and further protect the ground from water.
Prefabricated Inflatable hot tub bases are the most suitable selection available, They are made up of foam interlocking tiles that fit together like a puzzle and are suitable for all inflatables to be placed on top.
The soft spongy foam offers a comfortable feeling under the feet whilst offering protection to the hot tub material.
Last update on 2023-08-31 / Affiliate links / Images from Amazon Product Advertising API
FAQ'S
Find the answers to our most frequently asked questions when it comes to trying to figure out what the best base is for a hot tub!
Can I Put A Hot Tub On Grass?
No, you cannot put your hot tub onto the grass. Well, you cannot put your hot tub directly onto the grass.
The main reason that you shouldn't do this is due to the amount of weight that your hot tub will contain when filled. You might not immediately realize it, but your hot tub is actually incredibly heavy when full of water.
Once you fill it up it will contain a lot of water which will put immense pressure on your grass and can actually cause the ground that you lay it on to sink at the same time as ruining your grass. 
For best results, you should only ever fill your hot tub with water when it's on a suitable hard surface.
The grass might seem like a strong surface, but it is actually very easily damaged and the soil that holds the grass is also easily damaged which is why the grass is not a good base for your hot tub.
The only time that you should use your hot tub on grass is if you have an inflatable hot tub base on top of the grass.
"Though this can damage your grass if left out for long periods of time. "Its recommended using on fake grass"
Using a suitable hot tub base will soak up most of the weight, and feel comfortable under the feet whilst also protecting the underneath of your tub. 
Can a hot tub be placed directly on the ground?
If you have soil or grass in your backyard then you shouldn't place your hot tub directly onto the ground.
The only exception to this rule is if you have an inflatable hot tub, and it is not going to be up (and filled with water) for a very long time.
If you have bought a permanent hot tub then this should never be placed directly onto the ground, it should instead be placed onto a more suitable permanent base such as concrete for best results.
The fastest and easiest way to prepare a base for a permanent hard shell hot tub is to go for a prefabricated hot tub base that basically replaces the need for concrete, decking, or paving slabs.
Hot tubs weigh a lot, and they can really damage the ground if it is not suitable for the weight. To protect your land and the underside of your tub, you should always create a suitable base upon which you will lay your hot tub on.
You have a lot of different options to choose from when it comes to a base, from a hot tub decking base to concrete to gravel to custom bases, there are lots to choose from allowing you to find the one that is perfect for you.
So if you are considering buying a hot tub don't immediately assume that you can just lay it on the ground in your garden as your ground may not be able to take the weight of the hot tub when it is full. 
Can you put an inflatable hot tub on gravel?
While gravel is an excellent base for regular hot tubs, it is not the best option for an inflatable hot tub base. You can use this as a base, but there is a chance that the rough gravel could damage the soft exterior of the hot tub base.
If you already have gravel in your garden, this is a good base for your inflatable hot tub, but it is best to add some extra cushioning on top of the gravel before you lay the hot tub out as doing this will protect your tub. 
For this middle layer, most people choose to use either a strong foam mat or some sort of ground cloth cushioning.
These bases aren't incredibly strong but the gravel beneath it is, so all you really need out of the middle layer is something to protect your hot tub from the gravel.
This middle layer will protect your hot tub from the gravel, and the gravel will protect the ground beneath it from the weight of the hot tub.
This, therefore, ensures that you can use your hot tub with the peace of mind that it is not causing any damage to your yard. 
How do you prepare the ground for a hot tub?
Perhaps the most important part of setting up your hot tub is the preparation. To start preparing the ground for your hot tub, you should first choose the area where you want to keep the hot tub.
When you are choosing this area remember that having drainage nearby is very important.
You should also consider whether there are any power lines, trees, or other greenery around the area as this might impact whether it is a good place to put your hot tub, or not.
Additionally, you should think about your septic tank and sewer lines when choosing the perfect spot. Once that is done, you should also think about the distance between this area and your water source.
You will need to fill the hot tub, so ideally there will not be a massive distance between the water source and the tub.
Similarly, consider where the nearest electrical outlet is as your hot tub will need to be connected to the electricity.
After you have done all of that, you can then lay your chosen base, and then the area will be ready for you to set up your hot tub for use. 
How thick should a concrete slab be to hold a hot tub?
Hot tubs become very heavy once they have been filled with water, so you will need the concrete slab to be at least 4 inches (10.16 cm) thick.
It is important that the concrete slab is a minimum of this thickness because if it is any thinner then the concrete could break which could damage your hot tub.
A concrete slab that is at least 4 inches in thickness will be able to hold a weight of 115 pounds (52 kg) per square foot which is perfect for a larger hot tub. 
If you decide to build a concrete base then it is very important that the base has set thoroughly before you place the hot tub on top of it,
Concrete does take a while to set, and this can be frustrating but if you put the hot tub on the concrete before it has completely set then this will damage the structural integrity of the base.
Once the concrete has set you will have a sturdy base that will be able to hold your hot tub for years to come, as long as you make the slab at least 4 inches thick, See the video below.
Wrapping Up:
We've covered most if not all ways we know of creating the best base for a hot tub, should you have any questions or ideas then please leave them in the comment box provided for you below.
We will always reply to any comments left here on this page within 24-hrs.
Your email will be kept private and confidential.
We do not tolerate spam!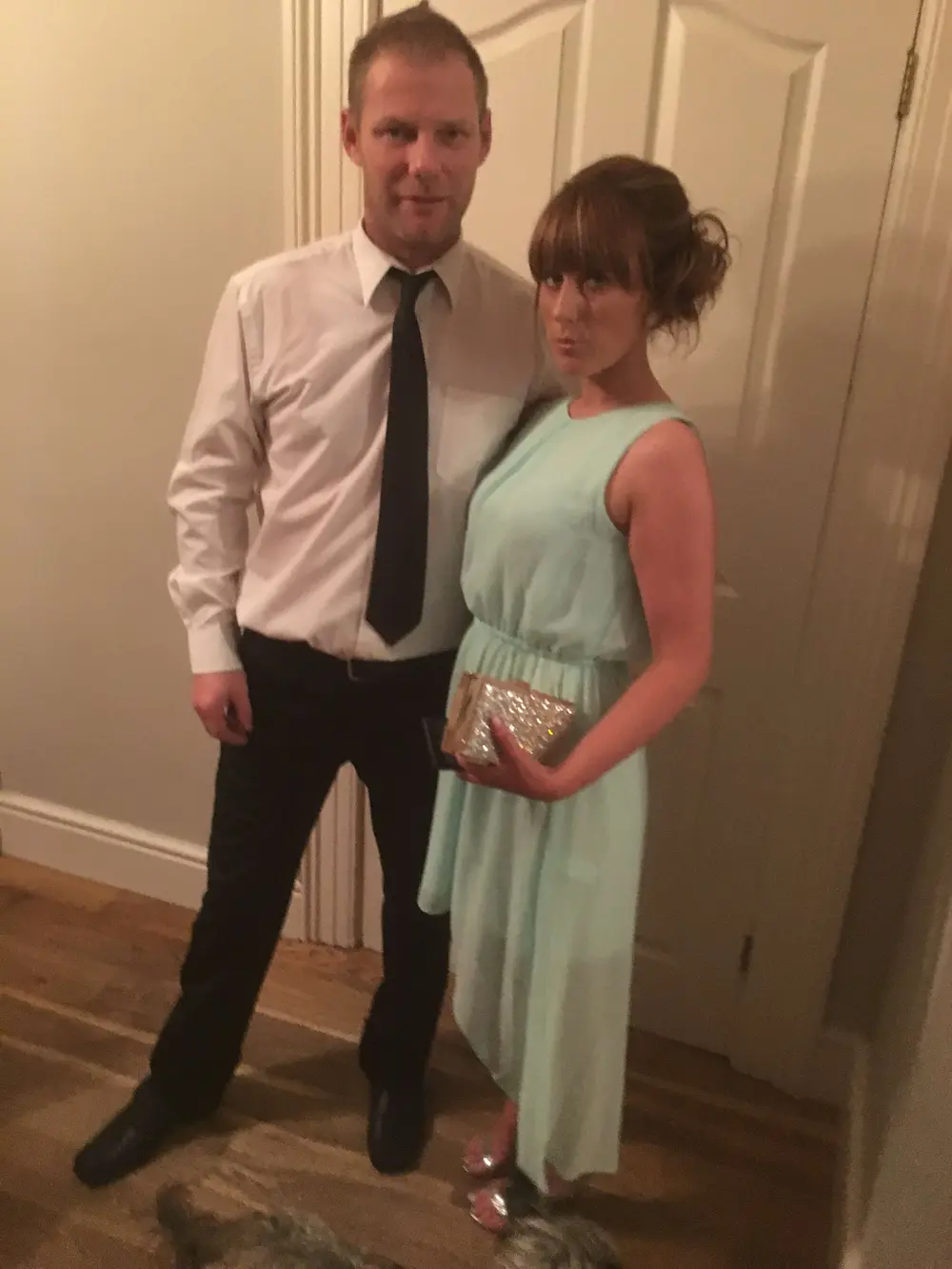 I'm Simon the owner of this website, I've had years of experience in the hot tub hire business and pool water maintenance where I learned a thing or two about hot tubs and water chemistry which I share here on my website. Learn more