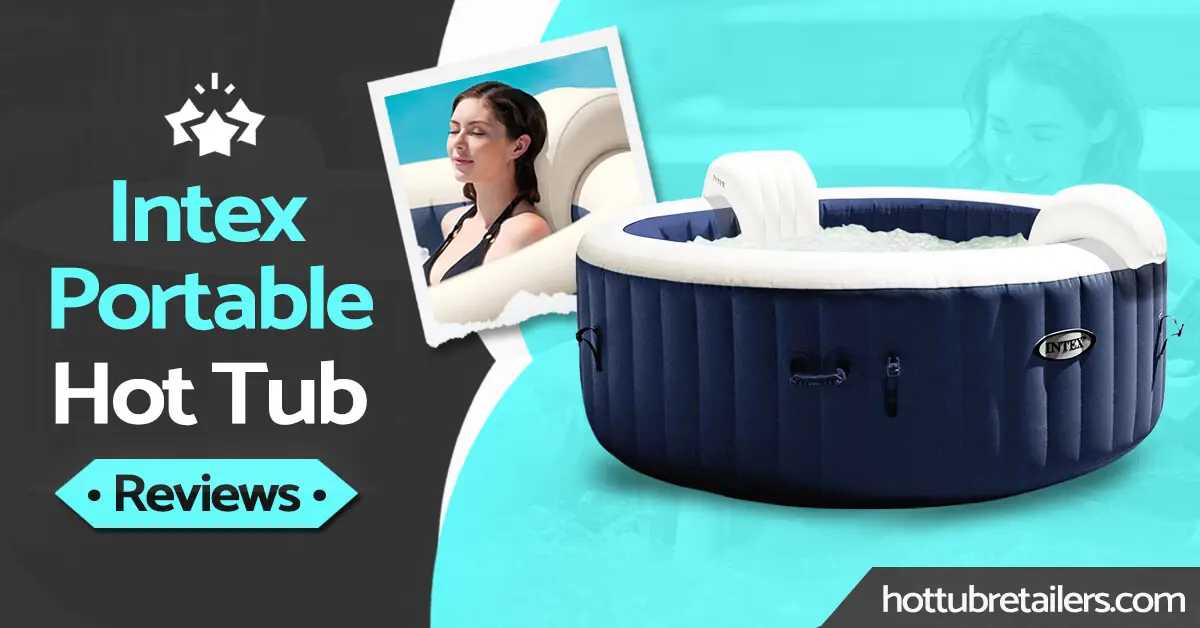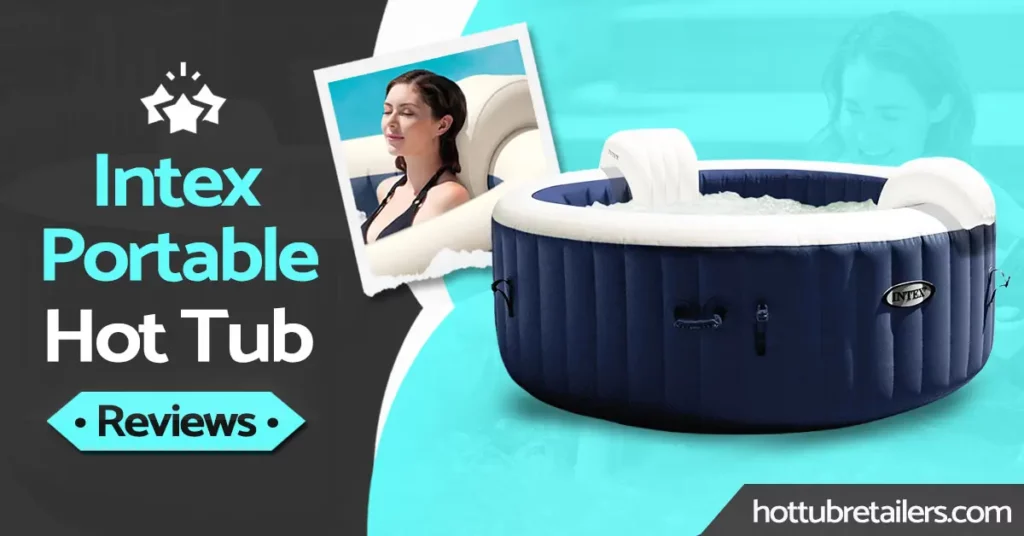 In this article, we'll be reviewing only the top three Intex portable hot tubs.
We cover only the best Intex hot tubs based on actual use, most recently sold items, seller's and manufacturer's feedback, and positive customer reviews.
We only recommend products that we have either used or we have thoroughly researched, we find and review products that have been proven to be a hit with previous customers. we also know a bit about hot tubs!
Disclaimer
Our site is reader supported, this means we may earn small commissions from Amazon and other affiliates at no extra cost to you if you buy through links on our website.
Intex is a proven hot tub brand with some good quality products and some great reviews.
That's why we recommend investing in an Intex portable inflatable hot tub for added flexibility! 
Intex One of the best manufacturers of portable hot tubs on the market, Intex is also a leading manufacturer of above-ground pools, spas, and inflatable hot tubs.
The company has been active for more than 50 years and sells its products in over 100 countries worldwide.
Top Three Intex Portable Hot Tub Reviews:
Last update on 2023-09-27 / Affiliate links / Images from Amazon Product Advertising API
---
Top Choice – Intex pure spa 6-person hot tub Review:
One of Intex's most popular hot tub products is the Intex Swimming Pool Spa with bubble Jacuzzi therapy built-in. 
The hot tub's main structure consists of 3 layers of reinforced, laminated PVC, which is the optimal construction material for a portable hot tub. 
PVC (Polyvinyl Chloride) is a synthetically manufactured plastic polymer known for being both lightweight and mechanically strong.
Therefore, a PVC hot tub like this one is easy to maneuver and will be resistant to punctures. The multi-layer construction and lamination add to the hot tub's durability. 
Intex's Swimming Pool Spa measures 216 x 216 x 71 high cm and is large enough to seat 6 people. This makes it one of the largest inflatable hot tubs available and an excellent hot tub for families or for hosting small, intimate gatherings in the comfort of your very own spa! 
The hot tub's 170 jets can be adjusted via the included control panel, with jacuzzi and whirlpool functions available for the ultimate relaxation experience. 
Moreover, the tub comes with everything you could possibly need to set it up and get your first hot tub session underway! That said you will need to purchase and add chemicals to the hot tub water before bathing in it.
In addition to the structural components, heater, and water pump, the Intex Swimming Pool Spa includes a filter cartridge for water purification and chlorine test strips so that you can make sure your hot tub water is clean and safe. 
2 headrests are also included with the purchase, allowing you to recline in style and comfort for hours! 
While the tub is easy to assemble in a matter of minutes, the disassembly process is less straightforward.
Therefore, we'd recommend this hot tub primarily for long-term use.
Pros
Tri-layer laminated PVC – Durable and puncture-resistant
Seats 6 – Perfect for families and gatherings
170-jet design – Whirlpool, jacuzzi, and massage option
The filter cartridge and test strips included – Enhances water safety
Includes 2 headrests – Designed for comfort and relaxation
Includes ground base sheet and top cover – For better insulation
Cons
Tricky disassembly process – Best for a long-term situation
No seats included like our runner-up below.
Conclusion:
Our top choice being the most popular Intex spa amongst customers, it's the largest in size within the reviews on this page seating up to 6 people comfortably, It comes with all you need to get up and running with added comfort benefits such as soft inflated headrests and a soft carpeted seating base.
Last update on 2023-09-27 / Affiliate links / Images from Amazon Product Advertising API
---
Runner Up – Intex Pure Spa 4-Person Greywood Deluxe With Built-In Seats:
Intex's Greywood Deluxe PureSpa is another highly popular Intex portable hot tub model, and not just because of its appealing imitation wood design to the outside but best of all it's one of the only hot that has built-in seats which is rare for an inflatable hot tub.
This hot tub is large enough to seat 4 people at one time, so it's ideal for smaller families or just for a spacious solo relaxation experience. Also available as a 6-person hot tub!
Comes with inflatable headrests for added comfort and mood-setting, multicolored LED lights.
Boasting 140 bubble-spa heated water jets that provide the ultimate massage therapy experience compared to other inflatables with air jets, the Intex PureSpa provides a highly enjoyable Jacuzzi effect. The temperature can be adjusted via the included control panel, which is very user-friendly.
It's detachable, as well as small and lightweight, so it's easy to handle. Moreover, the panel features large one-touch buttons and displays temperatures in large, clearly visible figures for effortless monitoring. 
Thanks to Intex's patented Fibre Tech sturdy construction, you can trust this hot tub not to succumb to punctures or abrasion damage.
You can also trust it to keep your tub's water skin-safe through the use of a built-in hard water treatment system that filters out calcium and magnesium. 
Unfortunately, running this tub at high temperatures isn't very cost-effective. If you run this tub at top temperatures for prolonged periods, you're likely to see a difference in your energy bills.
Pros
Fibre Tech construction – Sturdy and wear-resistant
Seats 4 – Suited to small families – (Also available as a 6-person)
140 heated jets – Total relaxation
Ergonomic control panel – Easily tailor-able experience
Built-in hard water treatment – Keeps water free from calcium and magnesium
Has built-in seats which is rare for an inflatable hot tub
Cons
Not the most energy-efficient – Costly to run on higher temperatures
Conclusion:
The runner up because the Greywood Intex spa boasts top quality with hundreds of positive online reviews, it has added benefits that other hot tubs don't have such as the hard water treatment built-in for those in hard water areas, heated pure-spa bubble therapy jets which makes it one of a kind compared to the usual cold air jets you get with most, if not all inflatable hot tubs.
Last update on 2023-09-27 / Affiliate links / Images from Amazon Product Advertising API
---

Lastly – Intex Simple Spa 4 Person Hot Tub Review:
Finally, we'd like to talk about Intex's Simple Spa model. 
This is a 4-seater hot tub model made of laminated PVC material. As we saw with the Swimming Pool Spa, laminated PVC contributes durability and wear resistance to a hot tub design, ensuring long-term functionality.
The horizontal beam construction and tear-resistant external mesh provide structural reinforcement.
100 individual water jets have been positioned around the inside of the tub, delivering soothing bubble action from every angle. 
The tilt-adjustable control panel makes controlling and tailoring your hot tub experience easier than ever! A single touch will set the panel to the perfect angle for in-tub monitoring, while the intuitive touch buttons allow you to select your ideal settings in a matter of seconds.
Along with the hot tub itself, you will receive all the necessary accessories for water treatment and filtration, including a pair of filter cartridges, a chlorine dispenser, and test strips. 
Something to bear in mind with this tub, however, is that heat does tend to escape over time. Therefore, this might not be the best hot tub for use in cold weather.
Pros
High-quality Intex builds quality and reliability. 
The high flow rate and proprietary filter – help to easily keep the tub clean and feeling premium.
The puncture-resistant 3-ply PVC is durable enough that you can expect it to last for a long period of time.
Built-in anti-limescale system
Cons
The inflatable headrests have rough edges along with the side stitching and can be uncomfortable in the wrong position.
Only has 100 jets.
Conclusion:
The Intex simple spa is our last choice because it only has 100 jets, it's only available with a European plug, apart from those bad points its not a bad hot tub that boasts mixed reviews online where most are positive. Overall for the lower price point, it's not a bad choice if you are on a smaller budget.
Last update on 2023-09-27 / Affiliate links / Images from Amazon Product Advertising API
---
Buyer's Guide: Choosing the Best Intex Portable Hot Tub 
All 3 of the hot tubs we've reviewed for you today are high-quality affordable investments you can expect to last you up to 3/5 years or even longer if you keep them well looked after.
However, choosing the best hot tub for your personal needs should involve evaluating factors individually. This will help you to find your ideal hot tub based on your priorities. 
The Size You Need: 
Before anything else, you'll need to make sure that your Intex hot tub is large enough for yourself and any friends or family members you anticipate using the tub with you. 
Intex manufactures its hot tubs in a variety of sizes, with the most common builds seating between 4 and 6 people. 
If you're mostly going to be using the hot tub yourself, a 4-seater will provide plenty of room to stretch out and relax on your own. However, it's also large enough for smaller families or couples. 
A 6-seater hot tub is an ideal size for a family-time hot tub and could be used for hosting small gatherings.
There are larger Inflatable hot tubs available that can accommodate a maximum of 7 average-sized people.
Construction Quality:
You will need to assess the quality of a hot tub's construction to determine its potential durability. Luckily, Intex prides itself on high-quality build materials you can expect to last. 
In terms of outer material, we'd recommend laminated PVC, which you can see featured in our product reviews.
This material is lightweight enough to maintain the portability of the hot tub without compromising on wear resistance. A laminated PVC hot tub will be unlikely to sustain a puncture or leak during use. 
The more layers of material used in construction, the better the tear-resistance of the hot tub will be. Therefore, we'd advise prioritizing tri-layer construction for better longevity. 
Your hot tub will also need to be sturdy on an internal level. Intex's patented Fibre Tech construction with reinforcement from horizontal beams will keep your hot tub structurally sound for years to come. 
Water Jets Or Hydro-Jets:
A portable hot tub just wouldn't provide the full experience without water jets!
Intex tubs all have integrated air jets compared to some other lazy spa models that have hydro-jets, The difference between air-jets and hydro-jets is that.
Air jets pump cold air through the jet holes.
Hydro-jets pump hot water through the jet holes.
Intex manufactures its hot tubs with different jet layouts, with some models sporting 100 jets and others boasting up to 170! A 100-jet design will provide an effective Jacuzzi function, but it will be more subtle than the 170-jet model which is a more aggressive massage experience. 
Of course, you can also adjust the temperature of the jets with the control panel heating function, which comes included with the purchase of an Intex hot tub. 
Additional Features You Should Check Are Included: 
Intex's portable hot tubs come with a wide range of additional features to make your spa experience healthier and more enjoyable. 
Do Intex Portable Hot Tubs Come With A Ground Sheet And Top Cover Lid?
Intex hot tubs DO come with an insulated ground base sheet, Not always do they come with a lockable insulated hot tub cover lid so always look out for this when planning to purchase.
Cover lids are good for both insulation and safety whilst helping to keep the kids and pets out! when the hot tub is not in use,
Cover lids also help maintain the water temperature and help to protect the tub from debris in your water.
In my opinion, as of writing this, The included groundsheets are thin and flimsy… There are much better options as explained below!
Depending on where you are planning to place your hot tub on the ground, you might want to consider spending a little more time before setting up the tub to best prepare your hot tub base to avoid any disappointing punctures to the base and increase comfort-ability when sitting in the tub by adding further protection underneath.
It's also recommended to use a complete insulated hot tub protective cover to help keep the water warm when your tub is not in use, doing this will also help reduce your electricity bill and ultimately reduce the overall running costs of your hot tub.
Does The Intex Portable Hot Tub Come With All The Accessories You Need?
No! not always so you should look out for what's included, Though things like chlorine or bromine dispensers, filters, and test strips are going to be needed as common hot tub accessories you will need to ensure water safety. These things are not always included and will need to be purchased separately.
Some models come with multiple filter cartridges to get you started, so you'll be able to enjoy your hot tub out of the box for longer without making too many additional purchases.
Do Intex Portable Hot Tubs Have Headrests?
Yes! Even a portable, soft-sided hot tub can feel uncomfortable to recline against for a long time. That's why Intex provides headrests to enhance relaxation. 
Portable hot tubs from Intex often come with a storage bag for when the tub is not in use. If you're investing in a portable hot tub for vacation purposes, this is an especially important storage feature. 
Do Intex Portable Hot Tubs Come With The Control Panel?
Of course! you'll also receive your control panel with your hot tub.
All Intex control panels are built to be intuitive, ergonomic, and easy to use, so adjusting your tub's temperature and monitoring its functions such as setting heating times in advance should be an easy process.
Always refer to the instruction manual provided!
Tilt-adjust-ability is a highly desirable feature in a hot tub control panel because it makes it easier to reach and read the display in all light conditions.
Wrapping Up:
Our top choice amongst these Intex portable hot tub reviews is the 6-person Intex swimming pool spa Jacuzzi because it's been so well designed with tough rigid materials that are made to last, it looks great and sports cracking reviews amongst hundreds of customers online. It's one of the larger hot tubs that's best suited to parties or family gatherings.
Our runner-up is the intex greywood purespa which again has fiber tech construction of a rigid design that is designed to take the wear and tear you throw at it, it also looks modern! It stacks up against all its competitors such as lazy spa when it comes to inflatable hot tub manufacturers, It boasts tonnes of recent reviews where buyers have been more than happy with their purchase.
---
You Might Also Like:
---
If you would like to ask a question or have your say about any of the Intex portable hot tub reviews mentioned on this page, then please use the comment box provided for you below.
We will always answer your questions within 24-hrs, Any queries or reviews will be shown on this page for other site visitors to see.
We do not tolerate spam!