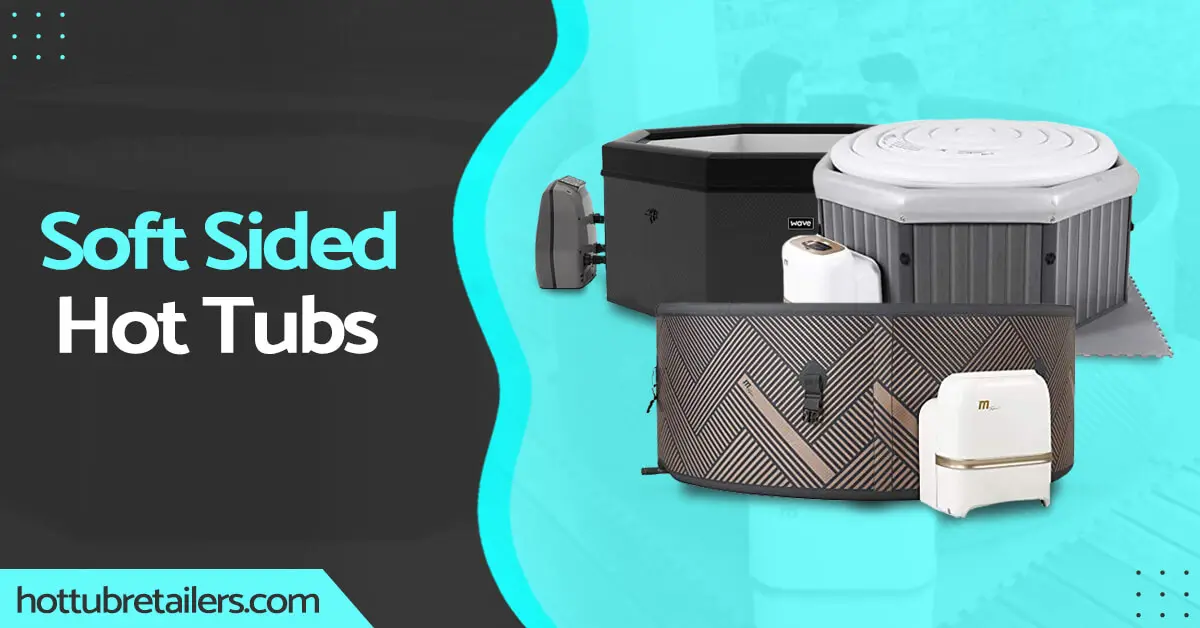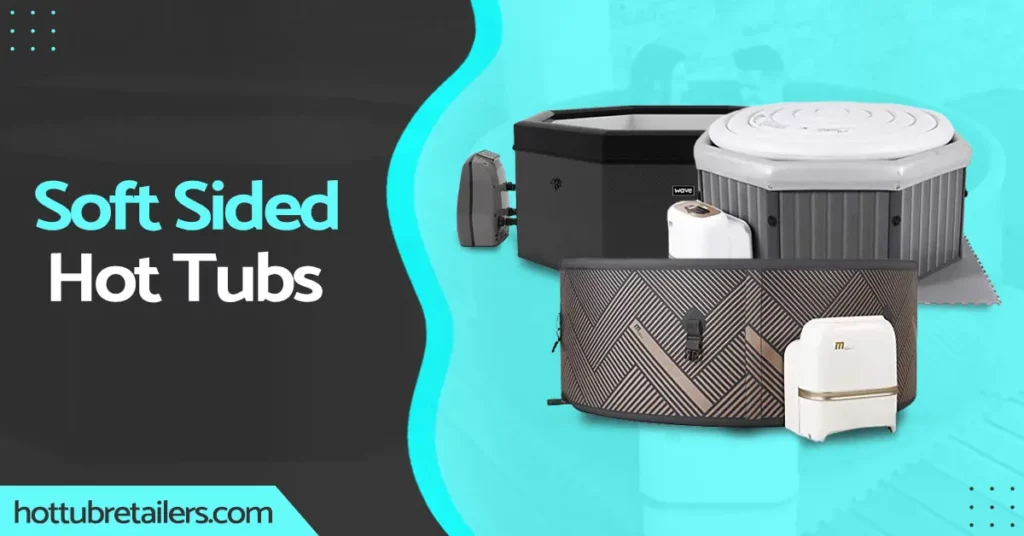 Soft sided hot tubs have become a popular alternative to the traditional fixed permanent hot tubs and spas. They are cheaper, more portable, easier to maintain, and near as comfortable.
In this article, we will discuss the pros and cons of everything you need to know, and we will compare the benefits, features, and prices.
We will also provide you with some clickable images of the very latest examples of the best soft-sided hot tubs currently available on the market.
Disclaimer
Our site is reader supported, this means we may earn small commissions from Amazon and other affiliates at no extra cost to you if you buy through links on our website.
Difference Between Soft Sided Hot Tubs and Inflatable Hot Tubs:
The main question that comes up is – What are the benefits of a soft spa vs. an inflatable spa?
The answer to that is… You can get a soft-sided hot tub for a price that's not much more than you would pay for a standard inflatable and you can expect it to last much longer than any type of inflatable model! Period.
Some customers have asked about the differences between soft-sided hot tubs and inflatable hot tubs and what makes one more durable than the other.
There are several key differences! Soft-sided hot tubs are made up of inner rigid foam or drop stitch walls with marine-grade vinyl coverings that are pretty much the same as the softub models which are way more expensive than the very similar but much cheaper models that we have covered below in this article
Where inflatables are generally made up of 3 layers of durable PVC material and they have a soft cushioned exterior. The interior is made from a strong vinyl that is flexible and durable but nowhere near as durable as a soft-side rigid spa.
Some of the latest inflatables coming out now have drop stitch walls which are much sturdier and stronger than regular inflatable models which also brings these new designs of hot tubs into the soft side category due to their durability so be sure to check them out.
A soft-sided portable hot tub is a typical upgrade from a basic inflatable hot tub model.
Two Typical Examples Of Durable Drop Stitch Design Soft Sided Hot Tubs:
Soft Sided Hot Tubs Are Portable And Easy To Set Up:
What makes soft-sided hot tubs popular is that they are portable and easy to set up yourself in no time.
They can be placed on almost any surface that is flat and level, so you can put one in your garden, decking area, or even on your patio whilst also using a suitable hot tub base at the same time to protect the underneath of your tub.
The main advantage of this kind of hot tub is its portability. If you move house or want to change the location of your hot tub, it's easy to deflate, pack away and inflate again in a new place.
They are a great way of enjoying the benefits of a hot tub in your own home, at a fraction of the cost compared to permanent alternatives.
Different Shapes and Sizes Of Soft Sided Hot Tubs:
Soft side hot tubs come in all shapes and sizes, from round to square and even octagonal. Your choice will depend on the size of your backyard or patio area and family size.
Because they are so easy to move, you can place them anywhere you want with no effort at all providing you move them when empty as you should never drag them when full of water.
Materials And Construction:
The inner walls, which are foam constructed are made up of layers of PVC marine-grade vinyl to the outer linings with soft durable, flexible inner cushioning, The foam walled design helps keep the heat in making these tubs much more energy efficient.
The latest models are now using inner tri-tech beam layered construction with an outer reinforced triple lining for maximum durability which is much stronger than your usual soft walled inflatable.
However, They are not as durable as the materials used on traditional acrylic hot tubs but are nowhere near as expensive.
Built-In Heater And Timer:
Portable Hot Tubs feature built-in heaters that can maintain the water at your desired temperature.
You can also set a timer that automatically heats the water when you want it ready and turns it off when you want it shut down.
Some of these units also come with underwater LED lights that provide a soothing light show while you relax in your spa. This will help create a more relaxing atmosphere while you enjoy your soak.
Heating Times:
It can take some time to heat up, so isn't ideal if you're looking for something you can use at short notice. You can expect to wait up to 24-hrs to reach maximum temperature.
Portable hot tubs are the new solution for a relaxing spa experience. They can inflate easily without any tools required.
They are an excellent option for families who want to enjoy the benefits of massage bubbles or hydrotherapy without the hassle of installing a permanent hot tub.
Most Frequently Asked Questions:
Now that we've covered all there is to know about these types of hot tubs, It's time to cover some of the questions people also ask.
How Long Do Soft Sided Hot Tubs Last?
As with any product, the quality of the materials used will affect how long it lasts. So this will vary depending on the manufacturer and model of your hot tub. You should get many years of use out of a high-quality model that is well maintained.
These hot tubs can last for many years if you look after them properly.
It's important to drain and clean the spa regularly, as well as carry out regular checks of the pump, filter, and fittings.
You should also store your inflatable spa in a cool, dry place when it's not in use and make sure that you follow the manufacturer's instructions.
The type of material used to make the hot tub will also have an impact on its lifespan. Most portable spas are made from layers of PVC or marine-grade vinyl and these materials can become brittle with age.
Can You Use Soft Sided Hot Tubs Indoors And Outdoors?
Portable spas can be used outdoors and indoors and are more convenient to install than larger heavier hard shell hot tubs which require extensive plumbing and electrical wiring.
NOTE – If your using indoors then just make sure your room is well ventilated to eliminate condensation and no water near your mains power socket is advisable to eliminate electric shocks, you can find out more about this and the steps you need to take in this recent post.
Can Soft Sided Hot Hot Tubs Be Used All Year Round?
Some people use their inflatable hot tubs all year round and the same goes for soft-sided hot tubs. Especially those with freeze shield or anti-icing built-in which is something you want to look out for if you are planning to use your hot tub in the winter.
Though It's not recommended as it will reduce the life span of the hot tub quite significantly due to the cold weather unless you take some extra measures as explained below.
For example, if you leave your soft-sided hot tub outside during the winter, it can develop cracks over time because of the extreme cold and weather conditions. When this happens, you will have to replace it or repair it if possible.
To prolong the life span of your spa in the winter months, you should either put it in a hot tub enclosure or go to the trouble of completely covering it with a complete thermal hot tub cover when left outside and not in use.
Or just stop using it when winter comes and store it indoors or in a dry area until summer returns or warm weather returns.
Do Soft Sided Hot Tubs Have Seats Built-In?
Most, if not all of these types of hot tubs don't have seats built in, But the good news is that there is a solution! You can purchase inflatable seats separately for your inflatable spa.
These seat cushions can be placed inside your spa to add comfort and support while you soak in the warm water. These seats are designed to fit most inflatable spas and hard shell spas.
Last update on 2023-09-22 / Affiliate links / Images from Amazon Product Advertising API
How You Can Benefit From The Massage Jets?
Massage jets are another feature that you will find built into inflatable hot tubs. Some Air-jets and some Hydro-jets are more expensive.
These jets create a stream of bubbles that provide a relaxing massage that improves blood flow throughout the body and reduces muscle tension and soothes aches and pains.
The massage jets deliver relief to tired feet and legs and are great at relieving sore muscles.
Also, great fun if you just feel like pampering yourself.
Pros Of Soft Sided Hot Tubs:
1. Portability – Soft-sided hot tubs are portable and easier to move around than permanent hot tubs, so if you like to change the location of your hot tub regularly, the soft-sided variety may be a better choice for you as they are easy to put up and take down.
2. Convenience – They are plug-and-play so you can plug them directly into your normal household socket without the need for an electrician to hard-wire them.
3. Cheaper – They are also generally much cheaper than traditional hard shell hot tubs, making them more affordable to buy.
Cons Of Soft Sided Hot Tubs:
1. Durability – They are not quite as sturdy or durable as the traditional hard shell acrylic style hot tubs but much better than standard inflatable hot tubs, Soft-sided hot tubs are more cost-effective to buy in but the trade-off is that they do not last as long as a hard shell acrylic tub.
2. Heat Loss – They also lose heat more easily than traditional hot tubs, meaning they will take a little longer to heat up and cost more to run in terms of energy bills.
That said! If you're looking for a cheaper hot tub that is best suited to families and groups of people who want to enjoy the same spa experience at home without shelling out thousands then soft side hot tubs are probably going to be the best choice for you.
3. Less Comfort – Soft-sided spas do not have built-in seats like traditional hot tubs, They have a cushioned base where you would be sitting directly on the ground. Though! Hot tub seats can be purchased separately if your looking for more comfort.
Conclusion:
In our opinion for the extra durability, you get from a soft-sided hot tub compared to paying out thousands for a hard shell acrylic hot tub, It's a no-brainer if you are on a budget and want something that's going to last much longer than a standard inflatable hot tub.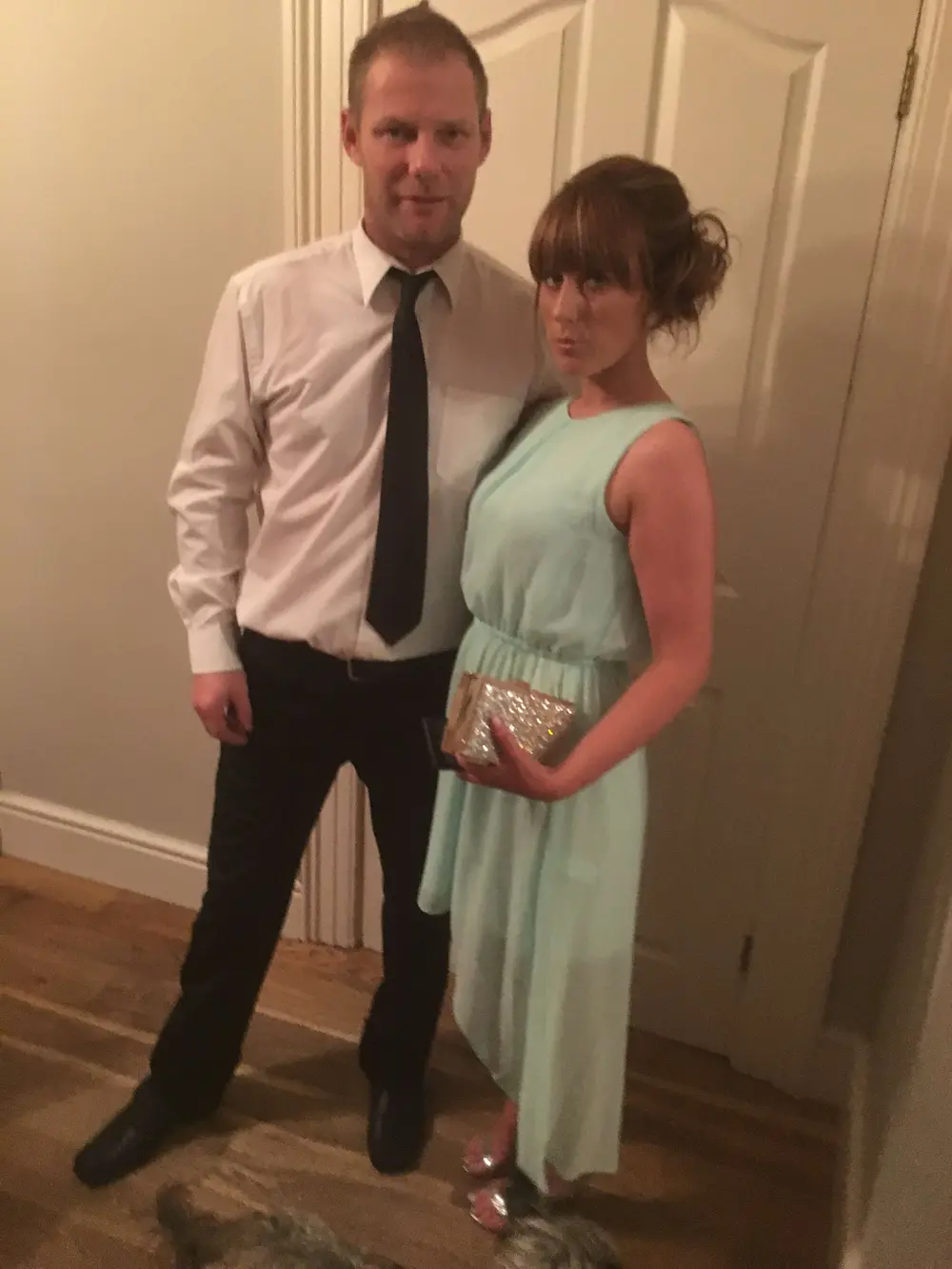 I'm Simon the owner of this website, I've had years of experience in the hot tub hire business and pool water maintenance where I learned a thing or two about hot tubs and water chemistry which I share here on my website. Learn more